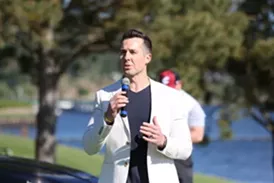 W
ashington State University
received a new complaint today accusing former WSU quarterback and current athletics department employee Jason Gesser of sexual misconduct, the university says in a press release.
The complaint comes less than a week after WSU's student newspaper, the
Daily Evergreen
, published a
story
revealing numerous allegations of sexual misconduct against Gesser. Those allegations were investigated by WSU's Office for Equal
Opportunity starting
in January, but the office found no policy violations, referring the investigation to Human Resource Services.
The formal complaint made today is "the first time that an individual who was directly involved in an alleged incident of sexual misconduct has filed a formal complaint with OEO" against Gesser, says WSU President Kirk Schulz and Director of Athletics Pat Chun in a joint statement.
"This is new information and a different set of events than previously reported," says Kimberly Anderson, executive director of the Office for Equal Opportunity.
Gesser was placed on "home assignment" while the university conducts an investigation of the allegations.
WSU's Office for Equal Opportunity referred all questions to university spokesman Phil Weiler, who says the university is not conducting interviews on this new allegation, citing an active investigation.
The January investigation looked into allegations that Gesser had a sexual relationship with one of his student interns in 2017, that he sexually harassed another intern and that he tried to kiss a co-worker.
Investigation documents reveal that many people within the athletic department or WSU IMG, which contracts with the college to broadcast Cougar games, heard rumors of inappropriate relationships Gesser had with either subordinates or students. Some employees reported those rumors to their superiors after hearing about an alleged relationship Gesser had with one of his interns. Former WSU QB Jack Thompson, then on the search committee for a new Athletic Director,
chided those employees
who reported their concerns with Gesser's behavior, reportedly saying "stay in [your] lane" and telling them to "fall in line." He reportedly said it was his job to keep these allegations from reaching WSU President Kirk Schulz's desk.
Schulz was told of the allegations on Dec. 1, 2017. An investigation was launched a month later. When investigators reached out to alleged victims, they either denied any relationship with Gesser outright, stated it took place when they were no longer students at WSU or said they did not consider his actions assault or harassment, records show.
In a statement to the
Spokesman-Review
, Gesser
denied
any inappropriate sexual relationships with students or staff. He called it a "nonstory" and said the accusations were investigated by WSU and "found to be without merit." Gesser reportedly makes $84,000 a year in his role as assistant director for athletics.
Washington State University advises anyone with information regarding allegations of misconduct to contact the OEO at 335-8288.