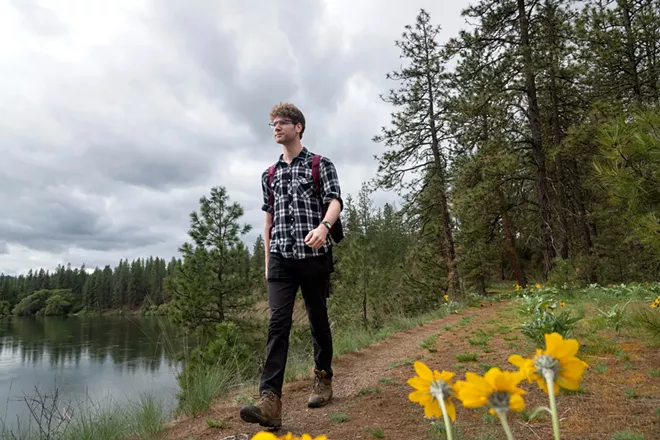 Riverside State Park is massive.
It's a sprawling, 9,000-acre natural area just northwest of downtown Spokane, packed with trees, wildlife and hidden secrets.
Most of the park's trails are short jaunts. But there's one trail — Trail 25 — that stretches across the entire park.
It's 25 miles long. I've never walked that far in a single day my entire life, but my editor thought it would be "fun" to see if it's possible to hike the whole thing in a day. I'm fairly new to Spokane, and I've never been to the park so this trek is equal parts assignment, exploration and potentially injurious. The plan: Start early and give it an honest shot. But failing miserably would make a good story, too.
The night before, I set an alarm for 6 am, pack my bag, study the map and mentally prepare myself for the longest hike of my life.
BOWL AND PITCHER
I sleep through the alarm. Rough start.
When I finally pull up to the trailhead at Bowl and Pitcher campground, it's just past 9 am. Ominous storm clouds are gathering overhead.
My backpack carries the bare essentials: two sandwiches, three Clif Bars, some beef jerky, a water bottle, headlamp, water filtration system, pen and notepad, book, jacket, portable phone charger, and paper map. I also bring a digital tape recorder so I can document my trip without stopping.
My recordings from the first part of the day are short and clinical, mostly observations about wildlife and the trail conditions. Nothing like the bizarre, rambling incoherence I utter later, which I'm still working to unpack.
9:35 am — Mile 1: "Getting started quite a bit later than I hoped but moderately optimistic I can make up the time. It's overcast, in the 50s, kinda cool, pretty pleasant. Large imposing rocks by the suspension bridge, moist and mossy."
After the bridge, Trail 25 cuts through the woods and runs adjacent to the river. The air is crisp, and the water is in a strong spring flow. There are tangled piles of wildfire-scorched trees dotted with bright yellow flowers. Power lines and expensive-looking houses dot the bluff across the river.
I pass joggers and hikers every few minutes. We follow Pacific Northwest trail etiquette. We nod and smile awkwardly, exchanging "Hi" and "How's it going?"
Just after 10 am, gunshots echo across the trees.
They're coming from the Spokane Rifle Club, a shooting range across the river. Each shot is followed by barking from a justifiably alarmed dog. The birds don't seem that bothered.
The trail eventually veers left, and I say goodbye to the river.
Hours from now, on the opposite side of the park — thirsty, alone, exhausted and desperate — I will want nothing more than to return to the cool river's edge, gunfire and all.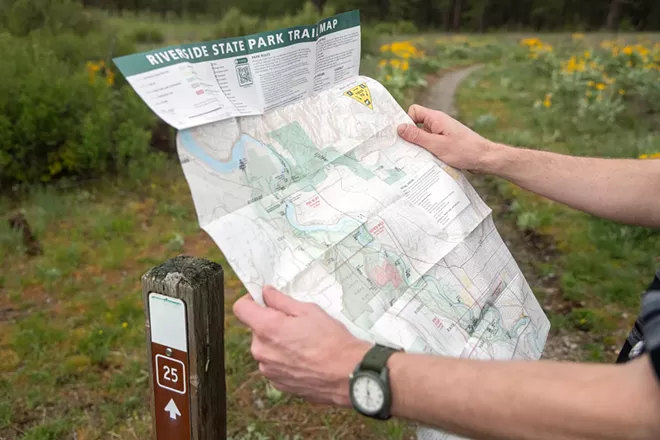 SEVEN MILE
The woods thin out, and the trail becomes more crowded and developed. I pass the Centennial Trail — that behemoth of a path that could take me to Idaho — and a cluster of quaint farmhouses. A pair of dogs in someone's backyard start barking and try chasing me. The smell of manure tells me there are horses, too, and there they are.
After crossing Seven Mile Road, I take a quick detour toward McLellan Overlook, where I meet Dave McIlrath, who recently retired and now walks in Riverside at least five days a week with his dog, Leto, named after a woman who fell in love with the Greek god Apollo.
McIlrath recommends I check out a part of the trail a couple miles north that runs along a bluff with great sightlines of the river. Those vibrant yellow flowers I've been seeing are called arrowleaf balsamroot, and McIlrath says they're out in full force this time of year.
"It's massive and beautiful," McIlrath says. "You get fields down there and it's just glorious."
We say goodbye and I press on, alone once more.
PINE BLUFF
There's a white-tailed deer standing in the middle of the trail. We make eye contact and pause. He's startled. I'm startled. Everything is still for a moment before he darts back into the forest.
I stop for lunch on top of a massive pile of loose rocks. My ham and cheese sandwich, usually mediocre, tastes glorious, as food always does on trails. I take out my book but decide not to read it — the view tells a better story.
After lunch, I keep hiking and soon hit the northernmost point of the trail, not far from Nine Mile Falls. It's emptier here. Only a couple of scattered hikers.
Every couple hundred meters, there are sign posts with "25" on them. Each one feels like a beacon of relief — a lighthouse that says, "You're on the right track." But they also serve as a warning, a reminder of how many miles I have to walk.
The trail veers south and climbs a steep hill toward Pine Bluff. There's an absolutely gorgeous view at the top. It feels like you can see the entire Inland Northwest. If you squint, you can just barely make out downtown's skyscrapers in the distance. I feel like an astronaut, looking back on the tiny blue globe I left behind.
2:50 pm — Mile 10: "Headline idea: 'Trail 25: a very, very, very, very, very long walk on the outskirts of Spokane — is it possible in a day? Nate Sanford tried to find out. We haven't heard from him since.'"
The trail flattens. More burned logs. Some flowers. A young couple smoking weed on a rock. A red-headed woodpecker unleashing righteous fury on a downed log. A poster for a missing German shepherd with different colored eyes.
Around mile 11, I face a dilemma. My map says I should continue south, but a version of the map online says Trail 25 takes a different route, one that snakes west along the outskirts of the park's off-road vehicle area and down to the end of Deep Creek.
I want adventure. I'm here for the glory. Ignoring the paper map, I follow a small, unmarked dirt trail that looks like it's going toward the off-road area. The vast unknown.
The straps of my backpack are digging into my shoulders. My lips are chapped. My feet are sore."

tweet this
OFF-ROAD VEHICLE AREA
The land is wide, empty and dry. Trees are sparse. This part of the park is designed for all-terrain vehicles and dirt bikes, not people. There are engine noises off in the distance, and I catch occasional glimpses of dirt bikers zooming through dirt mounds. Other than that I'm totally alone.
There's no real trail, so I'm following a wooden fence that borders the vehicle area. I keep searching the dirt for footprints, but find only tire tracks. Exhaustion is starting to set in.
3:35 pm — Mile 13: "The straps of my backpack are digging into my shoulders. My lips are chapped. My feet are sore. My boots are too small."
The portable charger stopped working hours ago, and my phone is down to 16 percent. Worse, I'm running low on water. I'm not super worried yet, since I have a water filter and should be able to draw from a creek. Or something.
Around 4 pm, I spot a patch of yellow paint on the fence that looks like it's supposed to be signaling something. On the other side of the fence, a small dirt trail leads away from the off-road area, into a deep forest.
I hop over the fence, on my way.
DEEP CREEK
Something rustles in the bushes — a turkey!
He looks just like the ones that live on Spokane's South Hill. But while the city turkeys travel in large packs and fear no human, this one is skittish, and darts into the forest when he sees me coming.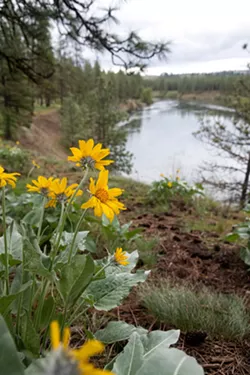 I'm totally alone here, deep in the woods on the far southwest side of the park. I see hoofprints, but no sign of other people. I quickly become lost in the thick forest and poorly marked trails.
It's kind of exciting. I feel a bit primal, and take off my shirt and sing loudly into the trees.
When I was younger, I was obsessed with shows like Survivorman and Bear Grylls' Man vs. Wild. Later, in high school, I read Jon Krakauer's Into the Wild at least five times. I didn't even like nature that much — it was the solitude that drew me, the freedom that comes with being truly alone and unaccounted for.
But cutting yourself off from the world comes with a cost. At 4:36 pm I finish my last drops of water.
I had planned to draw water from Deep Creek, which is colored aquatic blue on my map. But it becomes clear that Deep Creek is not deep. It's quite shallow. Bone dry shallow.
The thirst comes quickly. Water is suddenly the only thing I can think about. Everything else vanishes into a cloud of dust. I want to lie down and rest, but I know I can't stop walking. I was worried about rain this morning, but now I'm praying for it — to Apollo or whoever else will listen. A train whistle echoes in the distance.
I miss McIlrath and Leto. I miss Erick Doxey, our photographer, who joined me for half an hour back at the McLellan Overlook. I miss the riotous woodpecker and the white-tailed deer. I even miss the socially anxious turkey.
I chart a course to a spot near the off-road area that, according to my map, has bathrooms and a picnic table. If there isn't water there I don't know what I'll do.
5:15 pm— Mile 17: "Where do the deer find water?"
I come across a signpost that says "25," the first one I've seen in hours. It's good to know I'm on the right track, but I'm too thirsty to really care.
Back at the off-road area, I pass a puddle of water and seriously consider trying to filter from it. But the color is that of chocolate milk and gasoline. An ATV zooms past me, and I try waving them down. They don't see me.
When I finally make it to the off-road parking lot, I'm exhausted and a little delirious. I stagger over to the bathroom and... there isn't any water. I want to cry and drink my tears.
To say I am thirsty is to say nothing.
But across the parking lot, I spot salvation. A pair of guys in their 20s are loading dirt bikes into the back of a pickup truck. I walk to them, trying not to appear like I've lost my mind, and ask if they have any water.
"I have a bottle but I already drank part of it, do you mind?" Not at all.
The bottle is about three-quarters full, and I chug the whole thing in seconds. There's no better taste.
BOWL AND PITCHER (REDUX)
I thank the bikers for their help and hurry across the road, back to Trail 25. After a few minutes of walking, as if by some cruel cosmic joke, I find a full plastic water bottle lying in the middle of the trail with the seal still intact. Damn you, Apollo.
Despite what my body may say, I was never in danger of dehydration. I had cell service, and could have swallowed my pride and called for help. Still, there's something terrifying about the feeling of true thirst, and knowing that the nearest water is miles away.
After another hour of walking, I decide that I am done with nature. I am done being alone. I am done with this idea from my editor, which actually was pretty "fun," until it wasn't.
I abandon Trail 25 and take a shortcut on Trail 210, which brings me back to the river and the sound of rushing water. The final miles are a blur. When I finally make it back to the car, it's past 7 pm. My phone is at 2 percent. My legs are jello. Darkness is imminent. My phone GPS says I walked 22.97 miles. Two miles shy.
Trail 25 won. Barely. ♦