Kay O'Rourke is seeing red these days, and it shows in her work. Instead of her usual semi-biographical illustrations of animated animals and literary characters, the artist's latest canvases feature Lady Liberty crying bloody tears and cameos by current world leaders, including a naked President Trump pulling North Korean leader Kim Jong-un atop a bomb in a Radio Flyer wagon.
"I don't necessarily want to shock, but I do have a need to express what I'm feeling," says O'Rourke, whom Kendall Yards developer Jim Frank commissioned in 2015 to produce a series of historical paintings, "The River Remembers." "When the whole painting happens [in my mind], I have to paint it."
The immediacy of O'Rourke's approach caught the attention of Jennifer LaRue, a multifaceted writer and artist who also promotes art and artists, writers and select social causes through events at Hatch: Creative Business Incubator in Spokane Valley.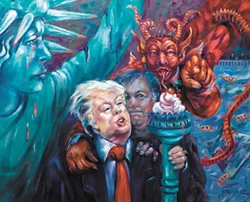 "Kay's pretty sure that her Trump paintings aren't a sure thing as far as sales," says LaRue, "not like her flowers." Yet that's why LaRue chose O'Rourke's work for Connect the Dots, an upcoming group exhibition of "socially, spiritually, and politically charged" work.
The election isn't the only thing on the minds of local artists, however.
Hazel Ann Mann is concerned about how technology can entangle us, which she'll explore in a site-specific performance/installation.
Ryan Babcock has a painting about James J. Lee, described by mainstream media as an environmental militant after he took hostages in the Maryland-based Discovery Channel headquarters in September 2010. Lee was shot and killed by police, ending a nearly four-hour standoff.
"The world today involves desperate people who feel powerless and want to make change," says Babcock. "In the eyes of the media, [Lee] was a crazy guy and got very little attention." His piece explores the fine line between terrorism and vigilantism, says Babcock. "People are quick to put labels on violent individuals and cast them out, without wondering about the catalyst that moved them."
Spokane artist John Thamm is well known for his portrait painting tinged with social and political commentary, including those featured in his 2013 book Vets: 50 Portraits of Veterans and Their Stories, and courtroom sketches during volatile federal trials, including those involving the Aryan Nations. He's doing an interactive piece about the death penalty, giving viewers the opportunity to voice their opinion about capital punishment.
LaRue says she curated Connect the Dots to get conversations started, and let people know they're not alone.
Since last November's presidential election, for example, local artists have only had one large-scale collective opportunity to voice their angst, when Terrain organizers created Rally, an open-call exhibition available for viewing on a handful of dates through this past January.
LaRue figures that a lot of artists making socially and politically charged work don't or won't show it, like O'Rourke, who appreciated the opportunity to meet much younger artists participating in the show.
"When I was the age of some of these young people, I didn't think as much about politics," says O'Rourke, 74. "It wasn't who I was." ♦
Connect the Dots • Sept. 1, 5-10 pm; Sept. 2, 5-9 pm; Sept. 3, 5-8 pm • Object Space • 1818½ E. Sprague • Facebook: Object Space Spokane