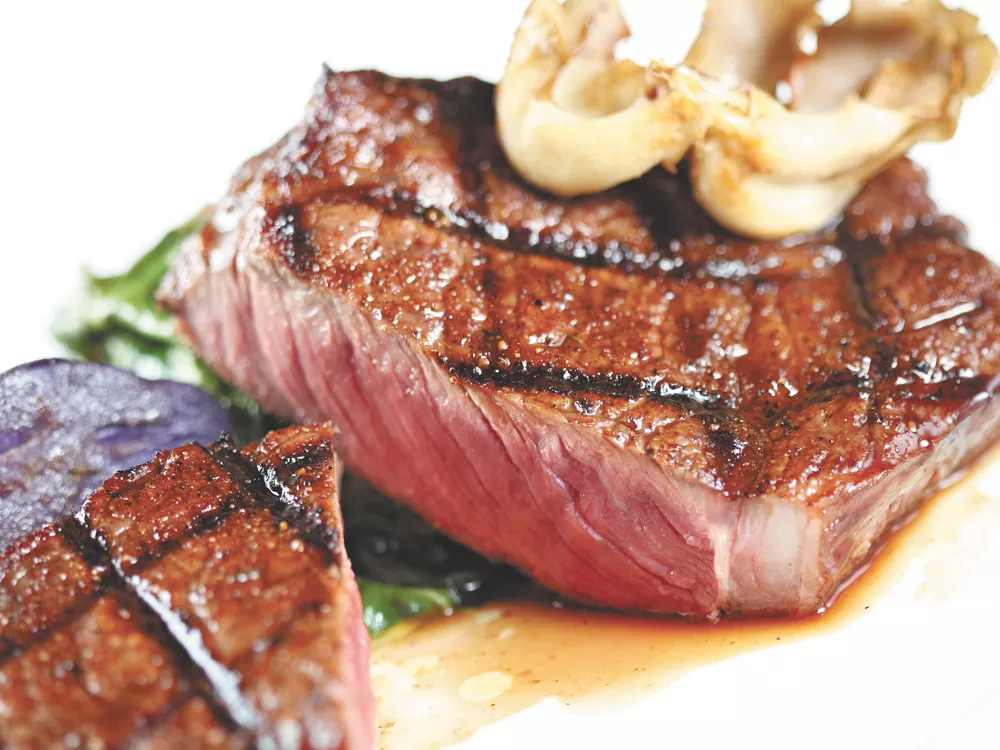 When asked what I need to eat before I die, my thoughts quickly turned morbid, then practical. I don't want to be stricken with indigestion while facing off with the Grim Reaper, and if I need to swim the River Styx, I can't be too full. Decadent indulgence doesn't seem the way to go. Neither does something full of toxins or artifice. I was reminded of a Nahua proverb, "We eat the earth, the earth then eats us."
Enter the bison. This is meat from an animal that stampedes, an animal that survived a massive slaughtering at the turn of the last century, an animal that Masselow's head chef Bob Rogers calls, "an athletic animal." Surely, this animal can outrun death. So I stampeded over to Masselow's, at Northern Quest Casino, for some free-range, foraging bison.
I ordered the bison rib-eye and my dining companion ordered the Washimi filet mignon. Each entree is served on a bed of grilled chard, alongside green beans dotted with bright red peppers diced to the size of confetti and finely slivered shallots. The bison rib-eye is best when rare, as the lean meat will not tolerate much fire exposure. If you are a rare meat lover, then this is the cut you need to consume in as pure a state as possible.
After appreciating the simplicity of the plate, the seared meat and the bright green bed, I made my first cut. The first distinguishing characteristic is the bison's flavor. The rib-eye's outer sear melds a carbon accent with a hint of salt. Sharper than beef, but not nearly as tangy as game meat, the bison rib-eye is the level balance of juice and meat. You will struggle to find a comparative meat. Here, you masticate the flesh and know that this is an animal that runs.
I warn you now: filet mignon will make you as complacent as a warrior in an opium den. Washimi Kobe beef has delicate inter-muscular fat that, Rogers says, "melts in your hands when you make a cut." As my dining companion's eyes glazed over, she offered me a bite. For the sake of comparative research, I accepted. The subtle flavor gave way to an intensely tender composition. The filet texture is so velvety that chewing feels like an assault. Instead, you have to knead and savor.
I turned back to the flavorful bison and gratefully used my teeth. This is action. This is eating the earth. Instead of numbing my body's cells, the lean, bloody meat rallied them to action; they decided to take up the serving spoon from the white truffle duchess potatoes and move it, fully loaded, to my plate.
Talk about eating the earth. Good potatoes have an earthy flavor. Great potatoes access regions of the primordial brain in ways not capable of being described by the conscious mind. If bison gives you energy, then potatoes give you strength. The fertile flavor was deep, like the bass notes of a faraway train. The white truffle oil took the dish an octave lower and, yes, I felt at one with the geological mother.
That's when I drank some wine and realized I had no room for dessert. So, maybe, if you eat well in this life then there's no need for another one.