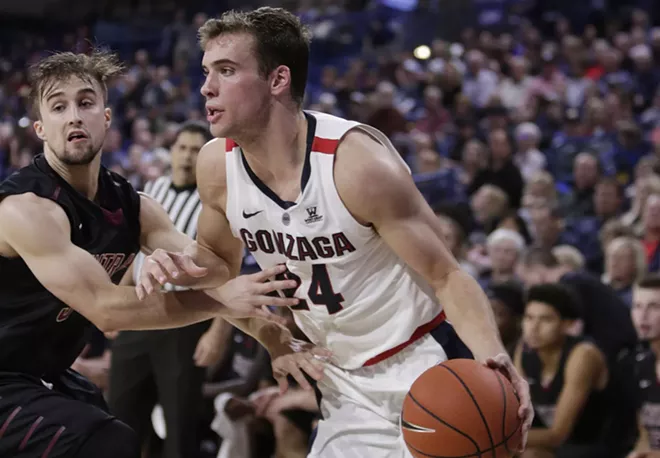 G
onzaga opened
the season with back-to-back wins and scored 100-plus points in each, thanks in large part to some unexpectedly "big" performances.
Not that sophomores Corey Kispert and Zach Norvell Jr. aren't big time players, as both certainly are. It's just that the pair of guards have been playing as if they're taller than their position.
Kispert, a 6-foot-6 sophomore wing, is averaging seven rebounds per game, and Norvell, a 6-foot-5 shooting guard, is averaging six per game. That makes them Gonzaga's second and third leading rebounders, respectively.
"We take a lot of pride in it," Norvell said after the Zags' opening night win against Idaho State. 
"We call ourselves 'big guards' a lot, you know what I mean?"
Kispert and Norvell play like "big guards." They rebound the ball at a rate usually reserved for the bigger men of the game, which is absolutely critical for Gonzaga right now, considering 6-foot-10 starting forward Killian Tillie will be sidelined for eight weeks with a stress fracture in his ankle.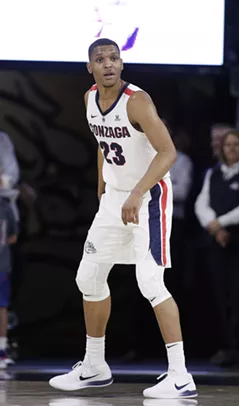 Tillie's absence forces Gonzaga to play small ball. There just simply aren't enough big bodies healthy enough to take the floor right now.
"There was a stretch in there where we had Corey in at the four," head coach Mark Few said after the Idaho State game, referencing a period where Kispert was playing the power forward position despite typically playing as a shooting guard or small forward.
Having a guy who stands 6-foot-6 be the second tallest player on the floor for your team might not seem reasonable in the game of basketball. And, that's because it isn't. But, without Tillie, Gonzaga is forced to go small. Fortunately for Mark Few, his team is well suited to that style of play.
"I think they do a pretty good job of that," Few said. "That's something they can do. Zach got numerous big rebounds for us last year, as did Corey."
Norvell and Kispert understand this, too.
"Sometimes we're gonna play some bigger wings that crash the glass," Norvell said, "so for us to get in there and dig out some boards... We really take pride in that a lot, actually."
That should be welcome news for Gonzaga fans. Dropping 100-plus points in back-to-back games is nothing to overlook, even if the competition came from Idaho State and Texas Southern. But, now the schedule starts to turn into a tough stretch. Texas A&M comes to town on Thursday. And after that the Zags head to Maui for a Thanksgiving week tournament that could see them face two top-ten ranked teams in the Auburn Tigers and Duke Blue Devils.
That's big time. Thankfully, Gonzaga's got a pair of big guards who have filled a big man's role in a big way.