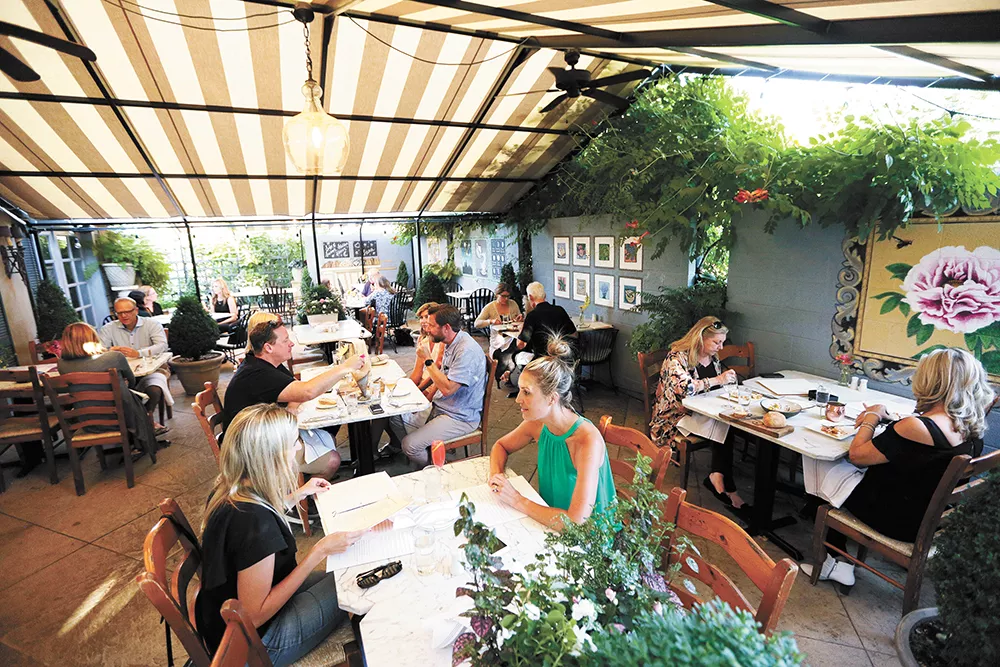 During the Inland Northwest's sweet and fleeting summer months, dining al fresco is an unofficial rule for locals. When you're not barbecuing in your own backyard, the following spots offer some of the best outdoor dining and drinking experiences in the region.
URBAN ROOFTOPS + MORE
Remedy Kitchen + Tavern, 3809 S. Grand Blvd., Spokane
With pretty blue chairs to match the sky, a view front and center at this South Hill hangout's rooftop patio makes summers sunny and scenic. To help guests beat the heat, there's also some added shade coverings, so you don't have to worry about getting too sunburnt during weekend brunch, happy hour, burger night (Monday), drunken clam night (Wednesday) or any other time. (CHEY SCOTT)
North Hill on Garland, 706 W. Garland Ave., Spokane
New to the scene this season, this casual food and drink spot in a historic building boasts not one but two outdoor dining areas overlooking the charming Garland District: a lower patio that's nicely shaded by deck seating above. Head there Monday for pizza and pint night (a deep dish plus two beers for $20) or Tuesday for $2 off all house cocktails. Follow them on Facebook for more specials and events. (CS)
Grand Terrace Bar, 333 W. Spokane Falls Blvd., Spokane
With views of the downtown skyline and Riverfront Park, this second-story terrace patio at the Davenport Grand Hotel is another summertime happy hour mainstay. The swanky urban spot, with its cherry red umbrellas, relaxing sofa-style seating and cozy fire pits, can make anyone feel like a VIP. The walk-up bar serves craft cocktails, beer, wine and small plates for sharing. (CS)
More great patios: Historic Davenport Hotel, Ruins, DeLeon's Taco & Bar, Madeleine's Cafe & Patisserie, Mizuna, Borracho Tacos & Tequileria, Saranac Public House, Zola (Spokane), Lodgepole (Moscow)
SECRET GARDENS
MoMo Sushi-Wok-Grill, 101 Sherman Ave., Coeur d'Alene
The subterranean patio outside the ground floor of MoMo Sushi is just as pretty from inside the restaurant as it is sitting amongst this garden oasis of stone walls, greenery and an inventive koi pond that meanders under diners and reappears inside the restaurant. The secret garden feel to it is a welcome respite from the lake bustle during peak season. (CARRIE A. SCOZZARO)
Luna, 5620 S. Perry St., Spokane
You won't notice the outside world while tucked away on one of this South Hill mainstay's two gorgeous garden patios, surrounded by greenery and a sweet breeze from blooming flowers all around. Seating includes tables and a cushy sofa surrounding a fire pit, with shade from pergolas, trees and umbrellas. Enjoy this stunning setting during happy hour, 3-6 pm daily, or weekend brunch, 9 am-3 pm. (CS)
The Barrel, 6404 N. Wall St., Spokane
You'll feel like you're at home in your own backyard while dining on this carefully tended garden patio, the "secret garden" of North Spokane. Mature trees and a private fencing around the space create lots of cool shade and an intimate setting to enjoy lunch or dinner at this longtime steak and seafood house that was revamped in 2015 by new ownership. (CS)
More great patios: Steel Barrel Taproom/Zona Blanca, Allie's Vegan Pizzeria & Cafe, Chaps, Clover, Browne's Bistro (Spokane), 315 Martinis & Tapas, Republic Kitchen & Taphouse (Coeur d'Alene), Nectar (Moscow), Beet & Basil (Sandpoint)
WATERSIDE VIEWS
Forty One South, 41 Lakeshore Dr., Sagle, Idaho
The lodge-like building on the south end of Sandpoint's Long Bridge has always been prime waterfront but when it became Forty One South, the restaurant amped up its patio presence. Treat yourself to brunch or an enchanting meal of wine and house-smoked trout at sunset on the wisteria-covered terrace, as live music drifts up from below the patio, the soundtrack to a perfect day on Lake Pend Oreille. (CAS)
Park Lodge, 411 N. Nettleton St., Spokane
Park Lodge has the kind of stunning setting overlooking the Spokane River that would draw diners to its patio no matter what the cuisine, while chef Philip Stanton's impressive way with wood-fired dishes could attract them to the biggest dive imaginable. Thankfully, there's no need to choose either/or because the Park Lodge patio virtually adjacent to the Centennial Trail offers a spot to delve into his food and enjoy some of the best views in town. (DAN NAILEN)
Hill's Resort, 4777 W. Lakeshore Rd., Priest Lake
A trek to North Idaho's picturesque Priest Lake is summer tradition for many, whether you're lucky enough to know someone with a cabin, taking a quick day trip or camping nearby. Also tradition is stopping at the historic Hill's Resort for drinks, dinner, lunch or brunch on its expansive, flower-filled deck overlooking the lake shore. Add another Northwest summer tradition to your visit and order something with huckleberries — pie, lemonade or a milkshake — foraged right from the surrounding hills. (CS)
More great patios: Maryhill Winery Spokane, Central Food, Nectar Wine & Beer, No-Li Brewhouse, Anthony's, Wandermere Twigs Bistro & Martini Bar (Spokane), Current Kitchen (Post Falls), Bardenay Restaurant & Distillery, Cedars Floating Restaurant (Coeur d'Alene), Spud's Waterfront Grill (Sandpoint)
GOLF COURSE GOALS
Coeur d'Alene Resort Floating Green Restaurant, 900 S. Floating Green Dr.
A round of golf might run $150-$250 per person, but you get the view for free at the Floating Green Restaurant. And what a view: the lake and the world's only floating green, occasionally populated with golfers arriving via the resort's classy wooden boat. Canopies and lake breezes keep you cool during the summer, and during the off-season this is a hidden gem for weekend breakfast or after-hours shared plates (CAS).
1898 Public House, 2010 W. Waikiki Rd., Spokane
Add to your summer bucket list to make at least one visit to this patio, on a deck overlooking the Kalispel Golf & Country Club's course in far north Spokane. Open to the public, the golf course-side restaurant and bar offers scenic views and cool breezes from the nearby Little Spokane River valley. Happy hour (Mon-Fri from 4-6 pm; Sat-Sun from 2-6 pm) is the perfect time, with $2 off drinks and an affordable, shareable appetizer menu of flatbreads, sliders and more. (CS)
Indian Canyon Golf Course, 1000 S. Assembly Rd., Spokane
I can't say you're going to have the most amazing food at Spokane's beloved Indian Canyon Golf Course overlooking the city from the western edge of town. It's the standard issue stuff you expect from a public course, but add in the view and it tastes exactly like summer. But you can pop a cold one or a cocktail and sit on an incredible patio at the course that opened in 1935, looking over Spokane and beyond to the mountains east of town. You don't need to play to enjoy the views as you heckle and/or cheer the players teeing off on hole No. 10. (DN)
More great patios: Downriver Golf Course (Spokane), Liberty Lake Golf Course, Highlands Golf Course Grill & Taphouse (Post Falls), Ponderosa Springs Golf Course (Coeur d'Alene), Banyan's on the Ridge (Pullman)
NEIGHBORHOOD HANGOUTS
Capone's Pub & Grill, 751 N. Fourth St., Coeur d'Alene
Despite its commercial success and expansions, Capone's midtown location continues to feel like a neighborhood hangout. It's family (and dog) friendly, but also a fun place to hang with friends, drink beer and eat pizza on the wraparound patio. Sit at the outdoor bar or shaded seating along the rail topped with flower baskets as you watch the slow amble of cars on Fourth Street (CAS).
The Flying Goat, 3318 W. Northwest Blvd., Spokane
Nestled along a stretch of Northwest Boulevard in Spokane's picturesque Audubon-Downriver Neighborhood, this popular pizza and beer spot's family-friendly vibe and satisfying eats means it's often busy. When the weather's warm, don't miss a chance to sit on the covered patio out front, which has a fire pit and spots of shade or sun depending on the time of day. Across the street, sister restaurant Downriver Grill's secluded back patio is also a lovely urban oasis. (CS)
Lost Boys Garage, 6325 N. Wall St., Spokane
A busy location on Wall Street not far from an intersection on Francis is not how you picture a patio where you actually want to hang out. But add a fence and some umbrellas, a surprisingly diverse menu of sandwiches and bar snacks, and an exceedingly friendly staff, and you have yourself a neighborhood joint well worth a visit, for regulars and newcomers alike. (DN)
More great patios: Rocket Market, the Wandering Table, the Elk Public House, Little Garden Cafe, Rockwood Bakery, the Shop, Italia Trattoria, Perry Street Brewing Co., the Lantern Tap House, Cascadia Public House, Wisconsinburger, the Scoop (Spokane) ♦