TREY GRUBAUGH
I like to play Skyrim a lot, if that's nerdy.
What do you play as?
An orc.
Do you go barbarian style?
I do. I'm not really into the whole magic-sorcery type thing. But the whole warrior-being-a-badass... I like that.
---
ELIZABETH KOEDDING
Minecraft, but also friendship bracelets and girly stuff like that.
What's the coolest thing you've ever built in Minecraft?
I built Hogwarts once. And all the decorating.
The entire school?
Yeah.
How long did it take you?
I'm a fast builder, so three days.
---
KIMBERLY WALKER
Oh yes. Maps. I acquire, selectively, maps.
Tell me more...
I have U.S. government maps from Admiralty Island, the Puget Sound. It was in conjunction with books I was reading at the time — maps of places I've been, maps of downtown Spokane. I'm not that geeky. I never even painted my own D&D figurines.
---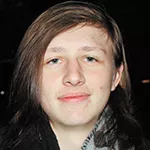 ARTHUR BIGELOW
Dungeons & Dragons. I usually play as the fighter or ranger. I'm not really the magic user.
What weapons do you prefer when you're in combat?
I played greatsword. That's not bad or anything, but I'm usually two-handed, or dual wielder, or sword and shield.
---
LIZ RYBURN
I have a lot of different characters [in D&D], but I usually play as the rogue.
You guys play regularly?
Every Friday. And I play online with some friends.
What would you tell someone who's never played it before?
It's also a really good way to make new friends.
---
INTERVIEWS BY QUINN WELSCH
RIVERFRONT SKATE RIBBON, 12/17/2018