"Shoulders" is a very Spokane story, and not just because it references Bloomsday, Joe Albi, and T.J. Meenach. It's about the crisp Spokane mornings when you can see the puffs of steam from the diehard joggers panting past, see the headlight beams piercing the fog. It's about that vintage Spokane mix of regret, nostalgia and desperation. And it's about those pieces of our lives we leave unlocked. — Daniel Walters
Standing in the shower, he shudders again, remembering the weight of his arms. They were wet sandbags, submerged and unmoving; at once paralyzed by the opportunity and filled with longing. Longing like the kind he's heard his mother describe (recently/repeatedly/pointedly): my arms just ache for that grandbaby. But Lydia's mother has the only arms with such ache-relieving privilege.
Tonight, and whenever he is so haunted, the simplicity of his former desire ridicules James. A ball. Then, under the lights, his arms had been hungry only to receive a piece of leather filled with air — quite literally a plaything. The worst mockery is that this one brief and meaningless failure only steeps itself hotter and stronger as the years pass. He shakes his head once, hard, and gargles the word pathetic into the rush of water. It's the seventh autumn since his senior football season. James is twenty-five.
In several minutes, he will splay himself face down and let his studio apartment's space heaters dry him into sleep. He will arise long before light, for he knows it will be less than twenty degrees in the morning.
Fog soup, he thinks as he leaves the old Browne's Addition Victorian. Good. The house is gawdy, a century past the glory of some elite Spokane family. It is chopped into apartments and appended with wrought iron staircases that usher tenants to odd entrances, precluding human interaction. James trots from the yard and locks into his seven-minute-mile pace, dropping down to Riverside and joining its downhill, westward flow toward the bridge. The road is empty and silent, though there will be more than fifty thousand who pass this stretch during Bloomsday in May. We do our sports as a city, in big injury-inducing bursts, he thinks as he parts ways with the race course. Across the footbridge north over a wide river of froth, his watch hasn't yet hit five o'clock. Prime time.
His spiral plastic cord of shaved Honda keys weigh down one wrist beneath his sweatshirt. He's an opportunist, but the keys are mostly for late night drives, not early morning runs. Sub-twenty degrees means puffer patrol. Despite the news coverage of his work, it amazes him how many westsiders leave empty, unlocked cars to warm up before work. But it goes without saying: among the puffers he encounters, he shows restraint. This morning, he will glance down side streets to see multiple clouds of thick exhaust mixing with late-November fog. He will hear the hasty scrape of plastic against windshields, smell an abundance of fumes before catalytic converters become warm enough to function. But, his list: only under a combination of circumstances will he strike: a clear visual of the driver returning to the house (For coffee? To finish packing a lunch?), the house door fully closed behind the driver, an obstructed view from the house to the car, an old-enough model year to suggest a lack of amenities (remote start, LoJack, Onstar) or a lack of planned precaution (extra key to warm-up-and-lock). Cherry picking.
He climbs the newly paved switchbacks toward West Central. On his runs, he thinks of this steep rise as a hard-muscled shoulder of the city. The oldest, roughest neighborhood ends with Summit Boulevard cutting a contour, following the river far below. On this morning's climb, he remembers a poet from junior year Language Arts. Carl Sandburg, talking tough about Chicago: City of the Big Shoulders. Moving his mind to a neighboring thought, he considers his idol, Ryne Sandberg. Legendary three-sport athlete — chose one of them almost on a whim, then journeyed from James's own North Central High School to flex his big shoulders in none other than big Carl's city. Cubbies. Hall of Fame. More homers than any second baseman. Stoic. Emotionless. Never looked back. James had read it online; someone recently asked Sandberg where he would have ended up if he had chosen one of his full-ride football offers. A rare grin washed over his face as he said, "The NFL."
Lost in his Sandburg/Sandberg musings, James mutters Chicago didn't even crack the list, referring to Spokane's consistent ranking in the top five cities for car theft per capita. Instantly, he is ashamed of his bravado. His thoughts turn to Lydia and Megan's accusations that had started when she ended things with him two weeks before the girl was born. Her parents fueling the fire, hiring a good lawyer friend of her dad's. Good friend, better lawyer. He fumes at the various classes he has to take to gain visitation rights, Lydia's formative weeks and months that pass as pride or paralysis keep him from attending. He drives his legs up the last switchback and strides hard down Summit, six-twenty pace, glancing once mechanically down each side street he passes.
Further up the city's shoulder, he'd been baiting the Skyline quarterback all night, waiting for his chance in the pouring rain. Joe Albi Stadium was far from sold out, but it was, as always, full to capacity of the perception that boys become men playing football under the lights. NC had at least cracked the top five in state rankings; the city had buzzed with talk leading up to their semi-final game. Four left standing, and an almost-home game at Joe Albi against the best team of all. This was his Sandberg moment.
James was a stupid fast white boy, his position coach Chauncy had yelled in the style of the downtown-Oakland-transport that he was, lilting with laughter on the practice field. He had a weird acceleration that was well documented by local sportswriters, closing speed that was almost comical to see in person, a bizarre footnote in the lore of local sports talent. Crossing the field from his position at backside corner to run down a reverse from behind, jumping routes, effortlessly bearing down on would-be receivers to deflect passes. His senior season was a standout effort in every category but one; it did not include a single interception.
The score was 35-35 with seconds remaining, and at the snap he recognized the route combination, reading Skyline's offense and knowing exactly what would unfold from tendencies and instinct and luck. He turned his hips, showing his jersey numbers to fool the quarterback into thinking he was retreating to deep coverage. He had seen the film. Turning back to see the ball's release, he had cherished it with his eyes. He accelerated to undercut the halfback's delayed wheel route, sensed the expanse of openness ahead. His mind willed soft hands to rise and receive. To support the ball's water-logged weight against his ribs as he hit the gas down the sideline, no chance of being touched. But then the key instant: the natural part for any player with his experience and ball skills — the subconscious decision, based on the height of the throw, to hold one's hands up, thumbs and index fingers together forming a noose, or keep them down in a cradle that swallows the ball into the midsection. As if determined, rebelling against free will itself, his arms did neither. They were soldier-like, indecisive, at the decisive moment of his adolescence. The ball glanced off his left shoulder pad, taking a freakish tumble into the halfback's arms, whose path was now unimpeded to the goal.
The way it works is a simple shed off Rifle Club Road. James had a small garage door opener on his keychain. It was called the Bat Cave, for the bats Rod would use to beat the hell out of anyone who snitched out the operation. Step one: don't be a fool during the take. Then drop down to the Meenach Bridge with the still-frosted car, drive north on the seldom-used road that skirts the river far below Albi Stadium, and pull onto Rod's land if not followed. Open the automatic door to a seemingly ramshackle garage. Drive in and text Rod. Play Xbox or watch ESPN in the "Bat Cave Man Cave" until Rod feels like coming to pay you and give you a ride home.
In the four times his puffer run had actually been fruitful, James had not been followed. Rod liked James's list of necessary conditions, the cautiousness of it. Only strike when it's a sure score; only take from streets that can't get eyeballs on the Meenach Bridge intersection to see the car's direction. James told himself he was getting paid to stay in shape. Most days, all I do is run. He had also begun doing mental math, dividing the couple thousand bucks by the amount of hours he had spent running since his last car. The hourly rate is nothing to scoff at, and rent's cheap.
This morning is odd. Snaking through the neighborhood at a fast clip, James figures it's the fog that keeps him from seeing puffers. Dean, Gardner, Boone, nothing. He'd had another day like this. A long stretch of nothing, then the perfect opportunity. That day, it was an old guy with a Camry, walking back to the house already wearing a green apron for some grocery store. The nametag in the ashtray said 'Produce Manager' — James calculated that he made enough to carry full coverage on his mediocre sedan. Victimless crime.
Today, a textbook example is parked on Sherwood Avenue. Mid-nineties Civic, puffing away. Even if it happens to be locked, he probably has a key that will work. He had heard the engine start just before reaching the intersection, so he jogged in place on Lindeke Street, listening for a scraper and counting to seven, enough time for the vehicle owner to turn toward the house but not reach it. As the high school or college-aged girl slams the front door behind her, James assesses the car. Thing is still iglooed out hardcore.
He hesitates only long enough to consider the blinds in the front window (closed, counts as an obstructed view). Exploding into a sprint toward the driver's-side door, he muses to himself that he needs a ski mask, not to protect his identity but because it's stupidly cold driving with one's head hanging out the window, golden-retriever style.
Nearly laughing in a crouch, he pops up to look into the vehicle before pulling the door handle. It's still too dark, and today's cars are covered in that weirdly thick layer of ice, the stuff that makes the windows look like that privacy glass his elementary school had used for bathrooms.
Unlocked, he slides into the seat, pressing in the clutch and releasing the handbrake in a single motion.
There is a quiet James has noticed during the next instant, the half second in which James holds his breath, glances to see if there is movement from the house, and prepares to step heavily on the gas. Today, the quiet is filled with something, an almost imperceptible, questioning whimper behind him.
Glancing in the rearview, James locks eyes with a toddler, who is probably a girl, though the bundle-factor doesn't allow much in the way of detail. Plus, it's straight tunnel vision into the kid's eyes.
James is paralyzed again. The first second is spent realizing that mama bear will return very soon. The next second is spent in a wild and involuntary fantasy, the idea of kidnapping a child not for ransom, but for the simple privilege of raising her well. During second three, the child screams in place of the engine, which still only idles.
At a dead sprint, James hits the west edge of Summit. He doesn't care if mom saw enough to give a description. Nearing the steep hillside down to the Spokane River, he considers rolling down, floating north. ♦
---
About the Author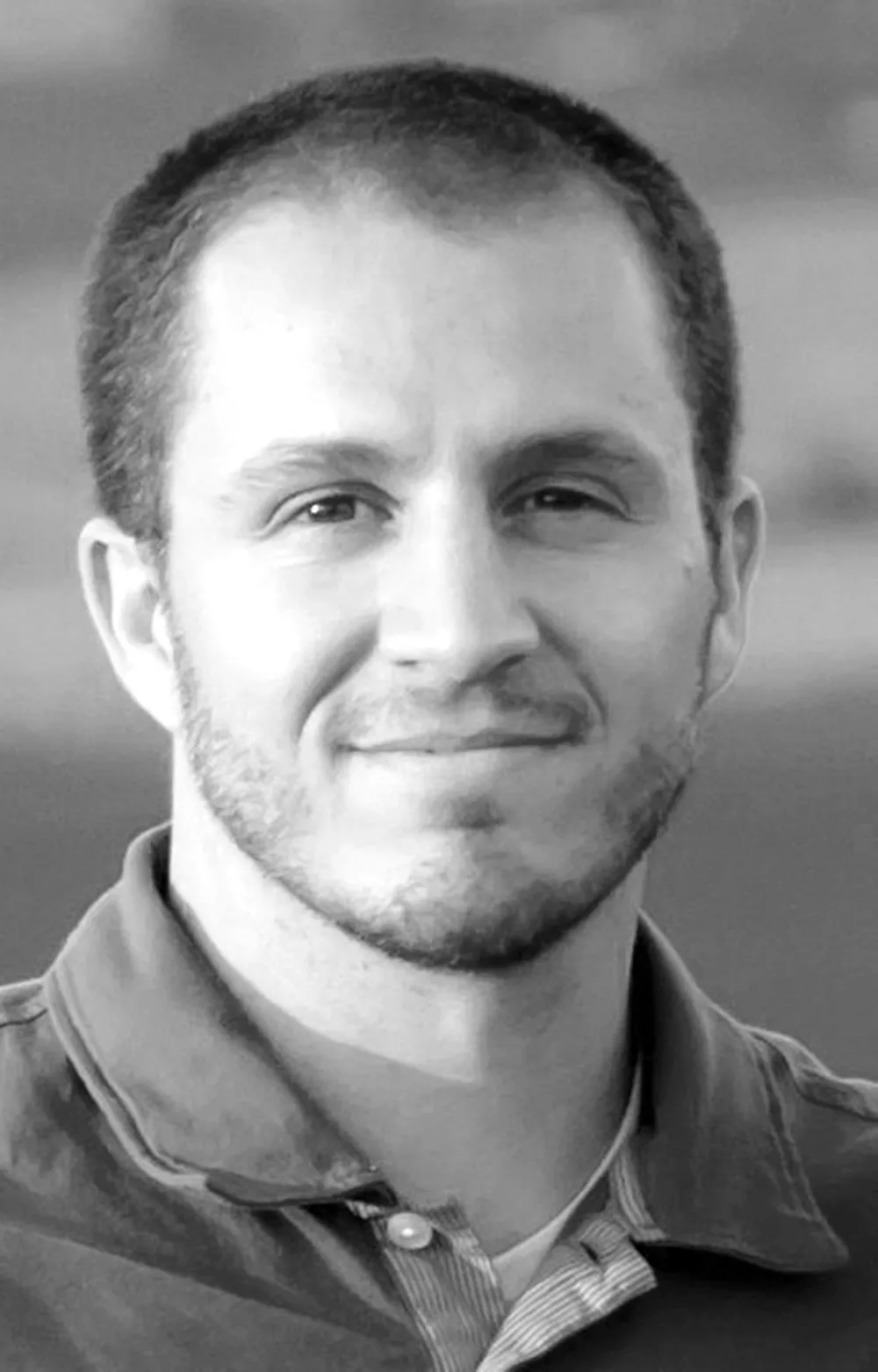 Ross Carper lives in Spokane with his wife Autumn and their two young children. He holds a master of fine arts from the Inland Northwest Center for Writers at Eastern Washington University and currently serves as director of middle school and college ministries at First Presbyterian Church. He has previously published fiction, poetry and journalism in various small publications and newspapers.