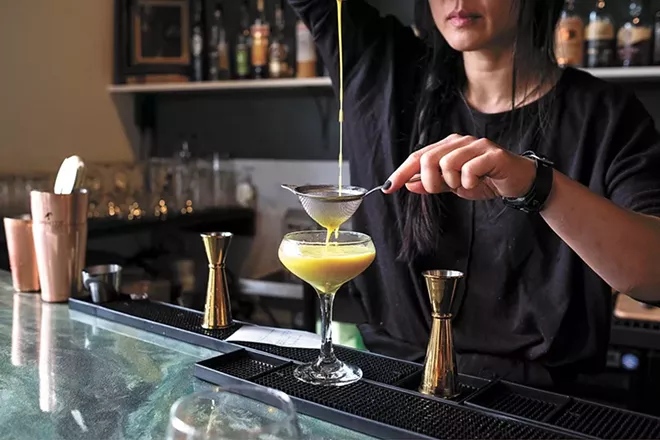 W
hen Washington Gov. Jay Inslee
first announced the four phases of reopening the state from shutdowns meant to slow the spread of COVID-19, it didn't look like bars would be able to reopen until the third phase.
The thing is, Washington doesn't issue just bar licenses, says Brian Smith, spokesman for the Liquor and Cannabis Board (LCB). It licenses, among other things, restaurants that sell liquor and food, taverns that only sell beer and wine, wineries, distilleries, breweries, private clubs and nightclubs which can sell beer, wine and liquor without needing to serve food like a restaurant.
All the different versions of alcohol-serving establishments come with their own guidelines. Soon after that first announcement, the LCB worked with the governor's office to establish an outline of which food and beverage establishments could start reopening at a limited capacity in phase 2, and which would have to wait until later.
During phase 2, which could begin soon for Spokane (the county applied to move to that phase on Wednesday), here are the types of food and beverage places that could open at 50 percent capacity, with distanced seating, tables of no more than five people, no seating at the bar top, and other
rules that the state laid out
:
Restaurants
Taverns
Private clubs
Caterers for home delivery
Golf courses
Snack bars and spas
Tasting rooms
Breweries, wineries, and distilleries
Other dine-in venues
Phase 3 includes all those who opened during phase 2, plus they can open bar tops at 25 percent of usual seating for those who are 21+, plus:
Restaurants (can move to <75% capacity, table size no larger than 10)
Caterers for small events (limited to 50 people)
Movie theaters (<50% capacity)
Nonprofit arts (limited to 50 people)
Special occasions (limited to 50 people)
Banquet permits (limited to 50 people)
Then phase 4 starts a 30-day window to withdraw the special allowances the LCB has made during the shutdowns, plus allows openings for:
Nightclubs
Sports/entertainment facilities
Special occasions (over 50 people)
During the shutdowns, the LCB worked to expand the sales of to-go spirits, wine and beer, and even pre-made cocktails, which had never been done before.
Restaurants with separate dining areas for minors and those who are 21+ will be allowed to open the 21+ space to minors to comply with the distancing requirements of the second and third phases. Minors still may not be seated at the bar top area.
Once the final phase starts, those more lenient rules will start to sunset.
Taverns, which only sell beer and wine, may open (per usual setup) only to those 21+ during phase 2, and should follow the distancing guidelines.
Nightclubs on the other hand, which also serve hard alcohol, won't be able to open until the final phase.
LCB enforcement officers explained the differences like this:
Nightclubs are similar to taverns, however taverns sell only beer and wine, while nightclubs can sell spirits.
Restaurants with spirits must sell complete meals
Full meal requirements are not present for nightclubs
Nightclubs are typically larger venues that incorporate entertainment and larger crowds.