click to enlarge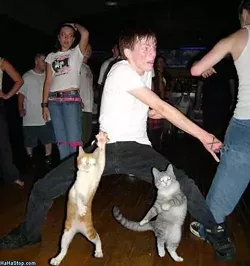 If we knew about it sooner, we woulda told you they were coming. Because we're not sure what it is about Portland disco-rock band Strength that makes people go totally apeshit and lose their minds, but every goddamn time they come through Spokane, that is precisely what happens. Go for the music or for said mind-losing tonight at Mootsy's. Please Draw in Me opens. 10 pm, $5. 21
They are pretty loud for a band without a drummer. The Soul and the Machine (formerly Space Age Fur) makes a Sonic Youth-y, Slowdive-y attempt at rock — and it's more original and inspired than you'd think for a band of what appear to be really young kids. Last time I saw them, I was instantly hooked. Check them out tonight at Sunset Junction. System and Station opens. 9 pm. $5. 21
Free admission, free music. BeGin! is on again for tonight, this time with music by local singer/songwriter Mark Ward. 6 pm. All-ages (bar for those born before 1989).
Geeks rule tomorrow at the Spokane Beat Battle: a head-to-head beat-making battle with 20 contestants. Read our story here about what exactly will happen — but it's by far your best bet for unique Saturday night entertainment.
Apparently he's the man. John Vanderslice (who you can read about here), a Bay Area singer/songwriter and the man behind Tiny Telephone recording studio, plays Empyrean tomorrow night with prolific local artist, Kevin Long. 8 pm. $5. All-ages.

Now get on with it!