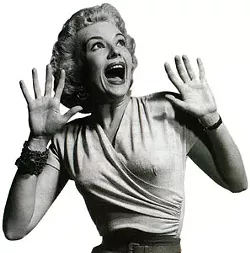 Let's just start this with what everyone's talking about. Tonight is the third annual
TERRAIN
event — a one night music, art, performance, and beer extravaganza. The show features 64 artists this year and seven bands.
DJ Likes Girls
kicks things off at 5 pm, followed by
Sueno del Verde
(Please Draw In Me's side-band), alt-country favorites
Silver Treason
, RAWK Final Four art-punkers
Jazz
, sound-freaks
The Soul and the Machine
(see our story on them
here
), Pullman's
Yarn Owl
and a late night set by
James Pants
. There have been whisperings about a secret show, too — and we swore we wouldn't tell. Poo. Be at Terrain all night — it's free to get in, all-ages and a bar for 21ers. Music City Building, 1011 W. First Ave.
Now that that's out of the way, when you get hot at Terrain, head to the Seaside for a show featuring a great singer-songwriter, Matthew Sonntag (9 pm, $5, 21 and over), or to Empyrean for an acoustic show with Brett Hite and Marshall McLean (8 pm, $8, all-ages).
On Saturday night, dust off your dancing shoes and head to Mootsy's for a show by Hillstomp and Whiskey Dick Mountain. We printed that the show was all-ages, and that's totally not true. Mootsy's shows are always 21 , and start around 10 pm. Sorry about that one.
And on Sunday, when you can dance no more, sit and listen to the beautiful, old-sounding songs of Sara Jackson-Holman. She's opening for Northwest favorites Floater — who will be performing an all-acoustic set. That show is all-ages, $12 and starts at 7 pm.