click to enlarge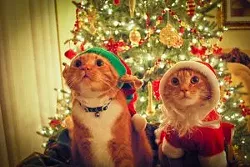 TONIGHT!
With the recent shuttering of the Cretin Hop's North Howard location (Tom "TC" Chavez ensured us he'll open elsewhere, but we haven't heard where yet), the third installation of this year's Nightmare Before Christmas series (a holiday-themed heavy-music fest) got a last minute change-up. The show, featuring locals Straight to Our Enemies, Doc Holiday, Number Five is Alive and the Ongoing Concept, will be tonight at Aclub instead. The show is all-ages and 8 bucks a pop. Starts at 4 pm… so you'd better get on your bike, like, now.
If dancing and lights and sweating and a lot of bass are your thing, you'll definitely want to hit up Stage54 tonight for Womp Session #2. Tonight's lineup is not just dust-up like last time, but a little bit of reggae and psychedelic, too. Antiserum, Psymbionic, Kaiku and Greek start kicking out the jams at 7 pm. $15 at the door. All-ages.
SATURDAY!
There will be a whole lotta talent in one room tomorrow at Bad Penmanship 7, the annual showcase of the local hip-hop collective. The group descends on Empyrean tomorrow from 6 - 11 pm to absolutely melt your face off. Check out this lineup: Jaeda (a gal who took one of our Bands to Watch spots this past year), Wildcard (who we wrote about here), Cursive, Freetime Synthetic, We the People Eaters, Auddie, Quiz (who we profiled here), Wax808, Vibeself and DJ Stone Tobey. I guarantee it will be a great time. Costs just 5 bucks to get in. All-ages.
The all-new beer-nerd pub, Jones Radiator, throws a nice little show this weekend: the Camaros, Whiskey Dick Mountain and Ampersand. Grab a craft beer at the bar and a spot in the front. 9 pm. Gotta be 21.