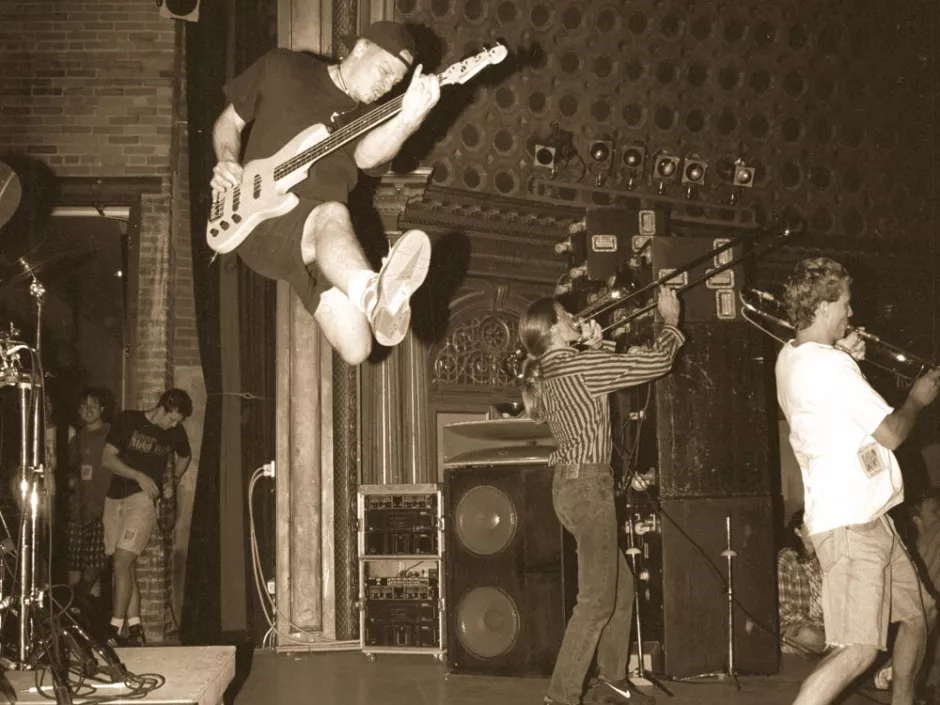 Last August,
The Inlander
wrote
a somewhat controversial story about the temporary reunion of Black Happy
, a legendary pseudo-ska, quasi-grunge band that started in North Idaho and got big for a short time. The guys were getting back together for a five-date nostalgia tour in Spokane and Seattle.
The shows sold out, as old fans rushed to relive the magic. And now you can, too.
Settin' Dogs on Fire comes with a live concert compiled of the five reunion shows, a short documentary about the band, and two trailers for the DVD itself.
Technically speaking, the DVD is nothing spectacular. Both the folly and the charm of it is that the poor production quality hearkens back to the early days of amateur HI-8 videos when the band was first formed. The repetitive and shaky camera angles coupled with incongruous audio levels only make the viewer feel as if they're holding the camera during Black Happy's early rehearsal sessions.
But what sets them and this film apart from other reunion videos is that Black Happy never became absurdly famous. They weren't around for ten to 20 years, eventually evolving and mutating their music into watered-down and radio-friendly versions of their former glory. They haven't played a slew of concerts consisting of all the tracks off their new mediocre album. Black Happy grew big and then vanished. This allows them to bypass a jaded image consisting of several years of music that never lived up to their beginnings. To be a bunch of 40-somethings playing music from their teen years with smiles on their faces and cheering crowds.
And it allows Black Happy: Settin' Dogs on Fire to be an enjoyable DVD to even those who know nothing of the band.
Pre-order your copy via BlackHappy.net for $20.