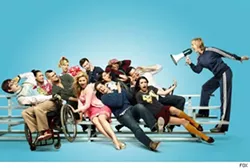 Glee has devoted countless alternately sappy and jokey speeches to the power of an arts education. Now the show's putting its money where its "Froggy Mouth" is. The Fox network, Glee creator Ryan Murphy, and the National Education for Music Education are donating $1 million to music programs throughout the nation.
There will be three grand prizes ($50,000 each), 10 first prizes ($25,000 each,) and 60 second place prices ($10,000 each.)

Already, three schools in Spokane are competing against each other. (Click on the links to vote for them.) So far, Longfellow Elementary School (featuring adorable elementary schoolers singing "I'd like to teach the world to sing") has 264 votes. Sacajawea Middle School (featuring a rap set to beat-boxing and strings) has 231 votes. Lewis and Clark High School's Musical Theater program (performing a very musical theater-like number) has 1,636 votes.

Of course, those (presumably spoiled rich) kids from
Lane Tech College Prep
, performing a parody of
Bohemian Rhapsody
, have 7,194 votes, so the Spokane schools have a long way to go to win.
So with that in mind, where's the auto-tuning, guys? How are you going to win a Glee contest and sell millions on iTunes without auto-tuning?
(Vote once a day, every day,
here
.)