There's a lot more to this weekend than a really big football game.
Ridiculously adorable kittens and puppies (this blog may be called Cat Friday, but we love the pups, too) are taking over the airwaves, competing for our attention with the Big Game.
Animal Planet's wildly popular Puppy Bowl
(Feb. 2 at 3 pm) marks its 10th year this weekend, with some special additions to its lineup of rough-housing pups on a mini gridiron.
A famous cat we've been talking about a lot lately —
Spokane's very own Keyboard Cat
— is the Puppy Bowl's highly-anticipated halftime performer, pounding out Bruno Mars' "Locked Out of Heaven" on the ivories. It's fitting KC is performing Mars' hit song. In case you hadn't heard, the pop singer is one of Super Bowl XLVIII's halftime show performers, along with the Red Hot Chili Peppers. Bento even plans to wears a cat-sized hat in the same style as the singer's, along with his signature baby-blue T-shirt, of course.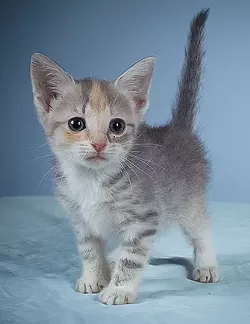 Puppy Bowl gives another nod to the feline species with a second special guest appearance — a famous cat we're always talking about here for obvious reasons: Lil' BUB. I got
the inside scoop a few weeks ago while interviewing BUB's dude
, Mike Bridavsky.
"We filmed footage of BUB in a BUB-sized shack in a BUB room with a fireplace and a TV and she is watching the Puppy Bowl on her TV, so the show cuts to her watching the game," he explained.
Need yet another reason to watch Puppy Bowl X? — besides the puppies, of course — the kitten stars of the show, including this tiny little thing named Erin (right). See photos and bios of all the event's
kitten stars
and
puppy players
on Animal Planet's website. Fair warning: you'll
squeeeeee
your head off.
But the Puppy Bowl's got even more competition to contend with this year than just the football game itself... The Hallmark Channel is airing
the first annual Kitten Bowl
the same day. Don't worry though, you can still watch both shows — the Kitten Bowl starts at noon. Hosted by proud cat lady Beth Stern, wife of radio personality Howard Stern, the event is being hosted in association with
the North Shore Animal League
. All 70 of the kittens featured in the special
are available to adopt after it airs
.
We highly recommend scrolling through the adorable photos and bios of all the players for each team: the
North Shore Bengals
,
Last Hope Lions
,
Home & Family Felines
and
Cedar Grove Cougars
. Also watch
the Kitten Bowl Training Camp live stream
while you count down with us to the big event.
On Sunday two games are scheduled to occur at once — one match is between the black kittens and tabbies, and another pits the orange kittens against the greys. The "winners" of each game go head to head (or head to tail?) in a championship game. Stern and game co-host John Sterling, New York Yankees legendary radio announcer, give the full play-by-play and bring several friends and guests on set throughout the program.
Which kitten team are you rooting for?
Also, don't forget that tomorrow the
Spokane Humane Society
and
The Yuppy Puppy pet boutique
are hosting a local version of the Puppy Bowl, featuring adoptable shelter pups roughing it up and hoping to win the ultimate prize: a home. The event happens at the Yuppy Puppy (9423 N. Newport Hwy.), and runs from 10 am-1 pm. Find out more
here
.