Like last year, the Inlander and Visit Spokane invited a handful of local public figures to dine out for Inlander Restaurant Week and tell us about the experience. Read more responses and stories here.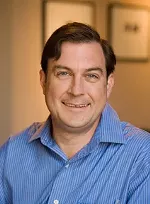 For Restaurant Week, Spokane City Council President Ben Stuckart and his wife went out to eat at Italia Trattoria in Browne's Addition. It's a good opportunity to try new places or old favorites, Stuckart says, while supporting Spokane's service industry and enjoying a night on the town.
Stuckart took the time to answer a few additional questions.
What kinds of food did you love as a kid, and what kinds of restaurants and cuisines do you prefer today?
When I was growing up we only ate out once a month on the last day of the month. That was usually hamburgers at Dick's. My favorite foods were comfort food growing up like beef stroganoff, crock pot pork chops and shepherd's pie. I am now a big fan of eating out and enjoy restaurants that use local food and locally owned. Some of our favorite restaurant's in Spokane are Italia Trattoria, Sante, Central Food, Casper Fry and Downriver Grill.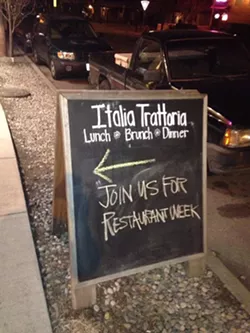 What did you and/or your dining companion choose from the pre fixe menu and why? How did you like it? Did any particular ingredient or presentation stand out to you?
Our server Myra was great. Bethe, the owner, said that this year restaurant week was even busier than last year and it is great for business. Ann, my wife and I ordered Salt Cod Fritters and Prosciutto Di Parma to start with. For entrees we ordered the Grilled Salmon with Gorgonzola Potatoes and the Porchetta with Creamy Polenta. We finished with a Tiramisu and Chocolate Heaven. Here are some descriptions that were used during our wonderful meal: "This is ridiculously good," "The salmon melts in your mouth," "The potatoes are so rich and creamy" and my favorite, "This is like a flavor explosion."
What was your favorite thing about your Restaurant Week dining experience?
My favorite thing last evening was that for a reasonable cost we were able to enjoy a starter, entrée and dessert at a fine dining establishment. The service and atmosphere were great and it felt like we were being spoiled.