Fairchild Air Force Base has finally and officially lost its chance to serve as home base of operations for the first active-duty fleet of new KC-46A refueling tankers as military officials confirmed previous decisions to house the fleet of 36 aircraft at McConnell Air Force Base in Kansas.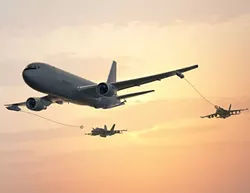 Military officials announced the decision in a news release this afternoon, ending a lengthy process in which Fairchild was named one of four final candidates for the new refueling operations. McConnell was announced as the leading choice in May of 2013.
Some local officials had hoped the Environmental Impact process and additional reviews might open the door for Fairchild to regain favor, but the news release states McConnell had a number of personnel and construction cost advantages.
"McConnell was selected as the first main operating base for the KC-46A Pegasus because it has the lowest military construction costs and is located in a region of high air refueling receiver demand," the release states. "McConnell AFB already has 44 KC-135 refueling aircraft assigned; replacing those aircraft with 36 KC-46A aircraft will require the lowest manpower adjustments of the candidate installations."
A secondary base, Altus AFB in Oklahoma, will serve as the Air Force's formal training site. Air Force officials report both bases will receive aircraft starting in fiscal year 2016.
Fairchild, which operates 35 of the current KC-135 refueling tankers, would have cost nearly $37 million more, according to early estimates. Fairchild officials says the local base remains dedicated to its mission using its existing tankers.
"Fairchild will continue to operate and execute the refueling mission with our current tanker fleet," Col. Brian Newberry says in a news release.
KC-46A Final Decision by inlanderweb