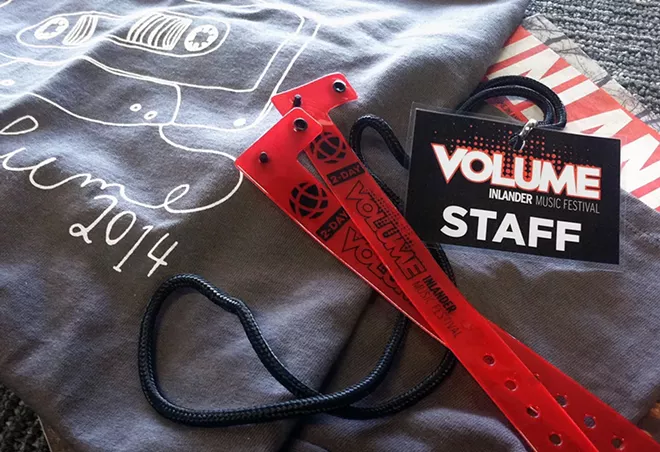 After months of planning and weeks of telling you about it, Volume is finally here. Our music festival is taking over downtown venues for two nights with more than 80 bands — and yes, it can get a little chaotic. Here's everything we've published so far and everything you need to know.
How to Get Tickets
Wristbands are required for entry to all venues, and you can buy them at the temporary Volume HQ at Sprague and Stevens from 5-9 pm Friday and 5-8 pm Saturday. (For you smart folks who bought them early, Will Call is at the same location.) Venues also have some on hand for purchase at the door. Cost is $25 for both nights or $15 for a single night, and we're taking both cash and credit card at Will Call.
What's Happening When
The full up-to-date schedule is here. (You can customize your own, which is super helpful.) There have been two significant changes since the print copies came out — The Flavr Blue is now performing Friday, and the Flying Spiders are performing Saturday.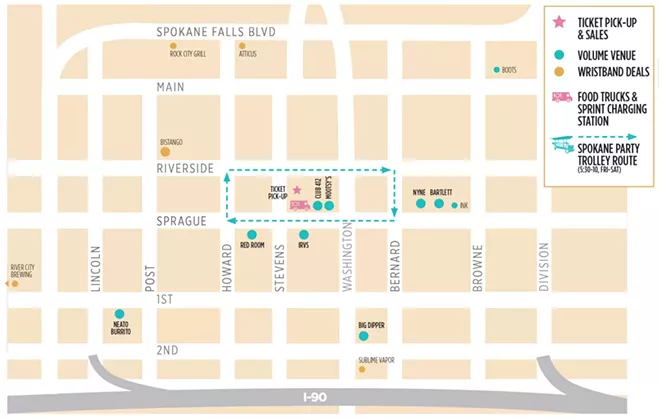 The Hashtag: #Volume509
Use the #Volume509 hashtag on Twitter and Instagram to share what you're up to. Follow us on Twitter at @TheInlander and @Volume509 and get updates on the Inlander and Volume Facebook pages.
Who's Playing
The band profiles are here. Also see our longer profiles on this year's five Bands to Watch: Sam Platts & the Kootenai Three, Mama Doll, Normal Babies, Blackwater Prophet, Bloody Gloves. Here are bands from around the region you should check out.
What's New This Year
Poets, wristband deals, panel discussions, a soul brunch in tribute to Isamu Jordan and more. Details here, and more about the poets here.
What's Open to All-Ages
In short, those under 21 can see any show at the Bartlett and the Big Dipper, and shows until 9 pm at Club 412 and Neato Burrito. But we've also got the full list of all-ages shows here.
What You Should See, According to the Experts
Not sure what to see? We asked local musicians to give us their lineup advice. Here's what we heard from Karli Ingersoll, Kent Ueland, Dan Ocean and Aaron Bocook. And here are other curated lineups lists for all musical tastes.
What Else You Might Want to Buy
Volume T-Shirts ($15), snacks from the food trucks parked at Sprague and Stevens, drink specials at venues (ask the bartender), band merch.
Related Reading
• What we know about why the Terrible Buttons are calling it quits
• Why one man hasn't taken off his Volume wristband since last year's event
• Profiles on previous years' Bands to Watch
Other Music Around Town
Volume is by far the biggest show around town this weekend, but by no means the only one. Browse our full music listings here.