More big news to break in this week's installment of Food Blotter. Earlier this week we confirmed the owners of the South Hill beer hotspot Manito Tap House have signed a lease for the first floor of the historic Broadview Dairy building, at 905 N. Washington, with plans to open a higher-end gastropub called The Blackbird.
Owner Patrick McPherson tells us he'd been looking into a recently vacated retail building in North Spokane's Audubon Park neighborhood, but passed on the space because of the cost to renovate it.
The concept for the new restaurant is more upscale fare than the Manito Tap House, and with fewer handles, but as many as 150-200 bottled beers available. Currently he says the goal for opening is the beginning of 2015.
Love @ First Bite Desserts reopened in its new Spokane Valley location, at 14401 E. Sprague, last Wednesday.
Locally-owned bakery White Box Pies is rebranding as White Box Cafe & Bakery, and plans to expand its menu and dining areas.
The downtown space at Lincoln and Riverside that most recently was home to Sergio's reopened last Friday as 24 Taps Sports Bar, a reincarnation of the old Heroes & Legends sports bar.
Three Inland Northwest Bars — Bon Bon, the Baby Bar and Rico's Public House in Pullman — made it onto a list of the best Washington's 10 Bars Outside of Seattle, by Thrillist.
Speaking of bars and beer, the date, film and brewery for the next installment of Suds and Cinema screening is...DIE HARD! It's showing Wed, Sept. 10 with beer from Twelve String Brewing Co.
King Burrito, a new food/taco truck, recently made its local debut and is serving up massive burritos at the corner of Third and Maple downtown.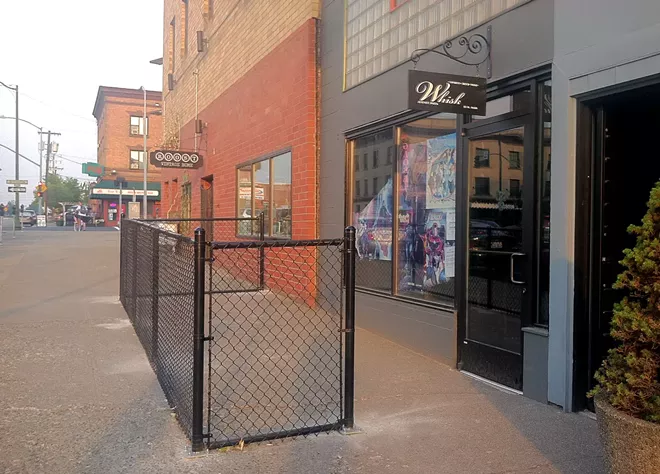 Whisk, a tiny new bar (pictured above) at 17 W. Main Ave. by the owners of Pacific Avenue Pizza in Browne's Addition, opened last week.
Don't miss the last two kickoff events for the newly-expanded Inland Northwest Ale Trail — now up to 27 regional breweries. Pint's Alehouse is hosting a tasting event tonight, from 5-10 pm, and Capone's Pub in Coeur d'Alene hosts one next Thursday, Aug. 28, from 6-9 pm.
Because of a newly-introduced policy by City Councilmember Amber Waldref, the owners of the yet-to-open Tamarack Public House (expected to open in October) are hoping to benefit from a new utilities fund that would pay to upgrade an aging city water line to the building. That upgrade is needed in order to service the building's modern fire sprinkler system.
In case you missed it, last week's issue included a story on The Scoop's new liquid-nitrogen ice cream-making process, and subsequent new house-made flavors.
A new Grocery Outlet store in Spokane Valley, at 12115 E. Sprague, is set to open a month from today.
Lake's Cakes, a new bakery specializing in cakes served in mason jars, opened at the beginning of the month in the Gonzaga area.
A former A&W fast food restaurant on North Division that closed more than a year ago is set to reopen as a Bruchi's CheeseSteaks & Subs, a locally-owned franchise.
Pullman is celebrating the Northwest's favorite legume this weekend, Aug. 22-23, during the 26th Annual National Lentil Festival.
As of this writing, there are still tickets ($20 in advance) available [UPDATE: The event is now sold out] for Saturday's No-Li 12: Small Batch Beer Fest, the brewery's second limited-release beer tasting event.
Up in Sandpoint, Laughing Dog Brewery is turning nine, and hosting a party to celebrate, this Saturday, Aug. 23.
Peaches are ripe for the pickin' up at Green Bluff, which celebrates the tasty stone fruit harvest through Labor Day next weekend.
Read previous food news here. Find food events here. Sign up for the Entree newsletter here.