Welcome to OUTLANDER, which will serve as a weekly (at least) round up of Inland Northwest outdoor recreation and natural resources news. This feature will highlight a wide variety of issues and events, ranging from camping stories to national environmental disputes. We'll also try to include some scenic photos. Feel free to pass along suggestions or curiosities. The Inlander looks forward to sharing and celebrating the Great Outdoors.
To start: State wildlife officials authorized the rare step of lethal force against a pack of wolves in southern Stevens County linked to 16 recent sheep kills. Officials will not actively hunt the Huckleberry pack, but have permission to shoot any wolves approaching the flock. (Inlander)
Wildfire season rages on, and yesterday we also wrote wrote about a new report from the U.S. Forest Service outlining how wildfire spending has undermined the department's budget and pushed back trail repairs, research and other important programs. (Inlander)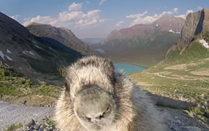 As much as we might love Marmots in Spokane, one particularly nosey rodent has gone viral after hogging a Greenpeace promo video in Glacier National Park. (Greenpeace)
Climbing junkies and fans of glacier porn can check out "K2: Siren of the Himalayas," which opens Friday at the Magic Lantern. (Inlander)
Under the category of crazy ideas that just might work: A Washington-based company has created a "fish vacuum," similar to a bank's suction tube, that sucks fish up and over dams. A prototype is being tested on the Yakima River. (Field & Stream)
Grizzly bears, the greatest fear of Stephen Colbert and many others, just got scarier, with Washington State University researchers exploring whether they can use tools. (WSU)
Mount Spokane State Park, the state's largest park, continues to collect public input on a proposal to reclassify part of the mountain for additional ski chairlifts and trails. An Environmental Impact Statement breaks down the issue in great detail. Mt. Spokane Ski & Snowboard Park outlines its support for the project. Comment here by Sept. 15.
And this is a bit older, but it would have been easy to pass over this slideshow of "super moon" photos from Outside magazine without noticing one shot came from Spokane. Enjoy.