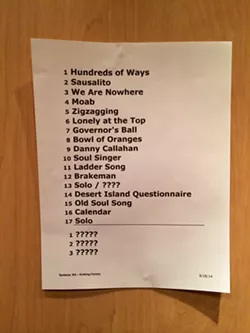 Conor Oberst is a dancer. There he was at Sunday night's Knitting Factory show soft-shoeing around the stage in his old man loafers, the kind with the tassels. Sometimes spinning on a heel, nearly getting caught in his guitar cord, other times knees wobbling around almost Elvis-esque. His dancing ability wasn't the only surprise of the night. Oberst one of the most gracious performers I've ever seen on stage.
For anyone familiar with Omaha/New York-based Oberst, he has a reputation for not always
being kind
. But "Thank you so much," peppered his set between most songs. When an audience member near the front screamed that she loved him, he responded with an "I love you too." He even told us about exploring Spokane and how glad he was to be back.
"What a beautiful place you live in," he said. "I took a romantic gondola ride with my manager."
His performance was a mix of alt-country, 1970s' rock and a little bit of acoustic emo thrown in for good measure. Parts of the set were legitimately joyous, a celebration of the human experience. Depending on the song, his backing band featured up to seven musicians. Especially impressive was Jonathan Wilson, who produced Oberst's newest record, on lead guitar and backing vocals, and trumpet/keyboard player Nate Walcott, who has been with Oberst since Bright Eyes. Yes, his most recent album
Upside Down Mountain
is an Americana work, but the show was more countrified than expected. It's as if his introspective lyrics have simply been waiting all of this time to be backed up by a steel string guitar.
The show led off strong with a single from his new album, "Hundreds of Ways." Audience members mouthed along with the song, swaying to the upbeat instrumentation. Anytime Oberst went into a song off the new record people cheered, a feat for any established artist, especially one who has musically reinvented himself.
"Moab," from Oberst's self-titled LP, was simply gorgeous with its three-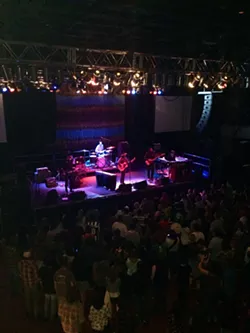 part harmony on the chorus. The words, "There's nothing that the road cannot heal" washed over the audience like a new-age gospel.
Midway through, Oberst switched to piano, going into the particularly melancholy Bright Eyes track, "Ladder Song," about not being alone in anything.
Thankfully, the keyboard didn't last long, and soon he was back with an acoustic guitar in hand playing the most beautiful song of the entire evening, "Lua." The Bright Eyes song was enhanced by Walcott's trumpet accompaniment, transporting us to New York in the winter. While it played, everyone held their breath.
But things weren't slow for long, "The Calendar Hung Itself" was the heaviest song of the night. Here, Oberst even let his trademark mass of messy black hair fly around. "This one I should be embarrassed by," he said in introduction. "I wrote is when I was 19, now I'm f—-ing 34. I wrote this after my first adolecent heartbreak. Of course, every day is heartbreaking …"
After one more acoustic solo piece, "Common Knowledge," he left the stage. Calls were wild for his return. Finally, after an interlude, Oberst emerged with a fresh shirt on, played a couple more including John Prine's "Pretty Good," and then went into extra innings with the especially rocking "Roosevelt Room." The reverb got loud and the song went on and on in the best way possible. For a Sunday night, concert-goers held on well past 11 pm.
At the very end of the show, he bowed about 13 times, blowing kisses, hands extended from his heart. He said "thank you," and meant it. To his fans at last night's show, Oberst was more than wonderful.