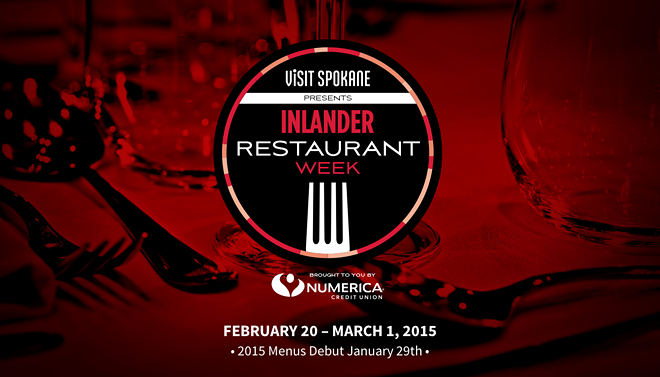 Let the countdown begin: the third annual Inlander Restaurant Week is about five weeks away, starting on Friday, Feb. 20, and running for 10 days through Sunday, March 1. Creative menu concocting is underway, and the offices of Visit Spokane and the Inlander have been abuzz of late with preparations for the fast-approaching event.
For its third inception, the basic format is the same as diners should remember from the past two years. Culinary teams at participating restaurants from the Inland Northwest's hugely diverse dining scene put together a menu of three-courses especially for Restaurant Week. Depending on the restaurant, that three-course meal is offered at a fixed price — or, in French, prix fixe — of $18 or $28 per person. Restaurants featured range from casual pubs to fine dining establishments, and many restaurants pair their courses with local libations, too.
Menus for the more than 90 (so far) participating restaurants in Restaurant Week 2015 are to be released online on Jan. 29, two weeks from this Thursday. Then, watch for the official Restaurant Week guide, inserted in the Feb. 19 issue of the Inlander, along with all our editorial coverage previewing the event. (Check out last year's RW features to whet your palate.)
For its third inception, Restaurant Week has grown immensely from what it sought to be in its inaugural year, when 53 restaurants in just the Spokane area participated. In 2014, that number grew to 74, and we expanded the event across the border to North Idaho.
For the third year, roughly 40 percent of restaurants participating are new to Restaurant Week, including many establishments that have debuted since last March.