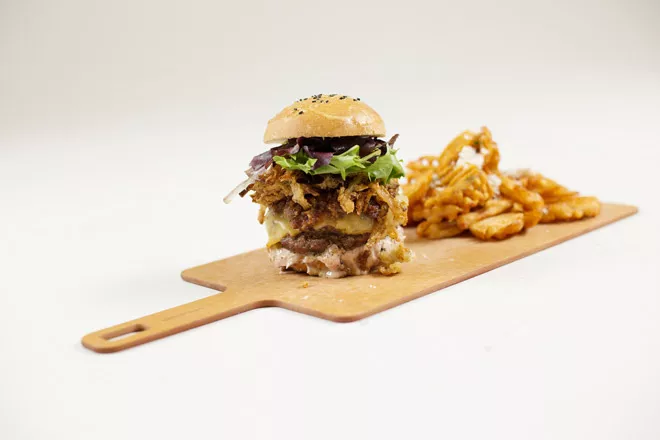 Inlander Restaurant Week
kicks off tomorrow, and with such a vast assortment of tremendous delectables available, the task of choosing can be delightfully overwhelming. To remedy this, we've compiled a quick and easy how-to for newcomers, as well as some personal recommendations. Inlander Restaurant Week lasts until March 1, so you have 10 days of feasting ahead of you all across Spokane and Coeur d'Alene and points in between. Feel free to consult this handy guide as you eat your way across the Pacific Northwest.
What do I do first?
Well, be hungry. For inspiration, just look over the
Restaurant Week menus
until something inspires you.
OK, I'm hungry. Now what?
Go to the restaurant! You might want to make a reservation, though that's not necessarily required. It never hurts to give a call; it might help you avoid any long waits.
I'm at the restaurant. Is there a special menu?
During Restaurant Week, the selected menus are actually fixed price. This means that each participating restaurant's 3-course menu is either $18 or $28. This should ease your planning woes pretty quickly.
Now that I know how much this costs, what do I do?
Eat! With three courses — and up to three options for each course — you'll certainly be well-equipped to battle your hunger.
What if I get hungrier? What if I want more?
That's the spirit! Some restaurants will offer add-on or upgrade options, and these will be clearly marked on your menu.
Speaking of spirits, I want a drink. Do I need to go to a bar afterwards or can I get a drink right now?
Each restaurant carries local libations, i.e., wine, beer, and — yes — spirits. Drink responsibly and avoid any
Wolf of Wall Street
tendencies
and you'll be fine.
I'm all done now. Do I just get up and leave?
No! Pay the total and tip generously. Karma is real and it starts at 15 percent — at a minimum.
OK, I'm leaving the restaurant now. Do I just go to sleep?
You certainly can, but be sure to share your dining experience across Twitter, Instagram, and Facebook by using the hashtag #INRestWeek. You can also tweet us at
@InlanderRW
and
@TheInlander
, respectively. Also, feel free to repeat this entire experience across all ten days of Inlander Restaurant Week!
Okay, what do you recommend?
We recommend everything, of course, but I've outlined a few personal suggestions below. Happy eatings!
Saranac Public House
This vegan-friendly hotspot makes a dynamite roasted butternut squash soup and an unparalleled vegan cannoli.
Twigs Bistro
Their Insalata Mista, a blend of romaine and baby greens with candied walnuts and dried cranberries tossed in a red-wine vinaigrette, is divine.
Fai's Noodle House
Fai's offers a variety of authentic Asian entrées, sake and beer. Be sure to try the sweet & spicy edamame and the saké.
Latah Creek Winery
will be offering their Latah Creek Wine Flight — a Chardonnay, Merlot, and Cabernet Flanc — for just $10.95 at
Satay
.
Arbor Crest Wine Cellars
will be offering a glass of their 2010 Sangiovese for $8 at
The Melting Pot
.