Starting a concert by announcing one of the band members is missing might seem an odd choice, but when it comes to the importance of singer Kelly Hogan to Neko Case's crew, an unmentioned absence would have surely distracted long-time fans who knew they'd be missing out both killer harmony vocals and the priceless, hilarious stage banter the two women share.
As much as Hogan was missed Monday night, though, Case and the rest of her band promptly did their best to make everyone at the Bing forget about the empty spot on stage, starting with Case's stunning a cappella take on show-opener "Nearly Midnight, Honolulu" and continuing through the triumphant closer "Ragtime" — both from her 2013 album
The Worse Things Get, The Harder I Fight, The Harder I Fight, The More I Love You
.
Much of the show was drawn from that excellent release since Case spent much of the past year or so recording and touring with New Pornographers. Like the missing Hogan, the show didn't suffer from a lack of new tunes. Hearing Case's clarion call of a voice ring through the Bing immediately engaged the audience (although dancing along was strictly verboten, judging by one overzealous security guard who shut down a couple trying to dance). Photos and videos were no-nos as well — a welcome restriction given how distracting glowing screens are in an intimate, intense setting like the one Monday. Case is the kind of powerful presence who can bring a room to silence just by opening her mouth to sing, and it was hear-a-pin-drop-quiet more than once during the evening.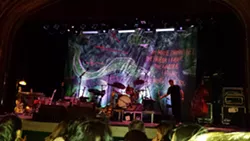 That doesn't mean the show was stiff or staid. Quite the contrary. Even without Hogan to goad her on, Case had
plenty of great one-liners
eliciting laughs between songs. After "Bracing for Sunday," she looked toward the chandeliers and said, "I'm pretty stoked on these lamps. They look like macaroons, but they light up around the edges. They make me hungry
and
design-y."
After "Where Did I Leave That Fire," "This Tornado Loves You" and "That Teenage Feeling," Case strapped on an electric guitar and kicked up a good ruckus with her guitarists Jon Rauhouse and Eric Bachmann for "If You Knew." Known for her voice for obvious reasons, Case's playing on electric and acoustic guitars is probably under-appreciated. She spent plenty of time Monday showing that she's a fine instrumentalist, too.
Some of Case's older songs were clear fan favorites, and highlights of the show. "Margaret vs. Pauline," "The Pharaohs," "Hold On, Hold On" and "Hex" all killed, as did
The Worse Things Get
songs "Calling Cards" (complete with Rauhouse on trombone!), "Man" and "City Swans."
Case hit the encore after 19 songs by singing the praises of the venue, noting they had popcorn hot and ready when she arrived, as well as organic tampons. The first encore featured just Case on stage, singing "Outro With Bees" from her
Blacklisted
album before the band rejoined her for "Deep Red Bells," "I Wish I Was the Moon" and "Ragtime."
It was a great show by all counts, although I wish the lack of Hogan meant we were guaranteed a return visit when Case makes another album.