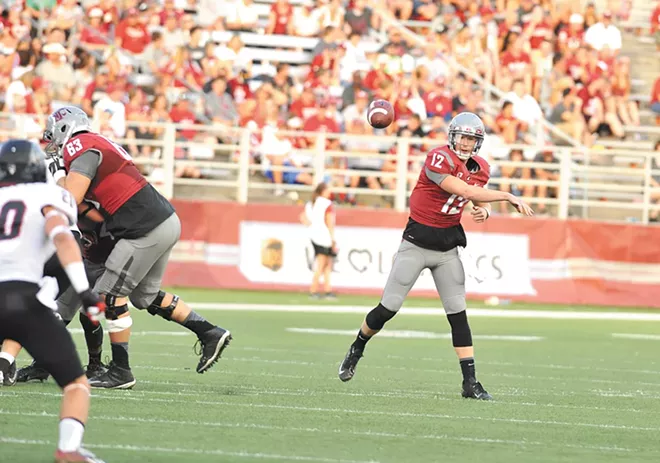 The last time many of us saw Connor Halliday, the prolific WSU quarterback was
sprawled on the field with a broken leg
that ended his season, and his college football career. It was a heart-breaking low point in a long, rough season for the Cougars, and for the Spokane native.
This weekend, though, there's a potential happy ending in the making. The NFL draft started last night, and while Halliday wasn't ever expected to be a top pick, there are six more rounds coming between Friday and Saturday, and it wouldn't be shocking for a team to take a flyer on the rehabbing gunslinger with the huge arm and deep catalog of eye-popping passing stats.
While we wait to see where Halliday might end up trying to make a pro team this summer — either by being drafted this weekend or as a free agent — let us recommend a read through a piece his mother Jessica Halliday, a Gonzaga writing teacher, penned for
Sports Illustrated
's website this week about the trials of being an athlete's mother, in good times and bad. The piece is part of Peter King's MMQB site, and is well worth the time.
Here's a sample:
I knew from the way his hands came up as he went down that it was bad. Nearly 20 years of watching Connor has schooled me. Hands to the helmet after a hit: bad. I stood up in the stands, watching for him to move. No movement. People kneeling. Idiot in the row across, "Halliday's f—— useless." When Coach Leach ran out and Connor reached up—Help me—I bolted, grateful we were playing at home so I knew my way to the locker room. People stared; crowd control parted at my shout, I'm Connor's mom! Trainers directed me not to the training room but to the driveway below, to the ambulance waiting for my son.

You can
read Halliday's essay right here
.