Rockwood Bakery, across the street from Manito Park, is located in a row of houses on the South Hill. If it weren't for the cars lining the streets surrounding the bakery, you might drive past it without even knowing. The bakery and coffee shop has been around for some time now, and is a perfect place to stop on the way to or from the park.

Though 21-year-old barista Matthias Wilson has only been working at Rockwood for eight months, he's been in the coffee business for nearly three years. When he's not studying exercise science at Eastern Washington University, you might find him at Rockwood Bakery.

INLANDER: How did you end up at Rockwood Bakery?

WILSON: It stood out to me one day because I was going on a walk around Manito. A lot of our customers, they'll get coffee and go to Manito, and so I did that. I went to the garden first and then came here afterwards. I saw a bakery sign on the street right here and I thought I'd check it out, and I stayed for a bit, and I kept coming back. I knew somebody who worked here and she ended up giving me the job.
Do you have any jobs aside from being a barista?
I have two other jobs. I work at the Blackbird, I'm a busboy there. I also work at World Relief. I'm the healthcare intern, and I did that all summer and I asked to stay on for the fall. With them, I do home visits with a ton of different cultures and I promote hygiene and make sure that they're using the right soap for the right task and promote healthy habits. I also take people to their doctor's appointments. Myself and my boss apply people for healthcare and we walk them through the medical screening in order for them to get their green card.

What are your hobbies?

I like thrift shopping. That's probably my biggest hobby. I think my friends would say that, too. I'm really good at a finding ridiculously good deals on things. Like I found, in the past two weeks, two pairs of Birkenstocks for $2 each.

Of all the things to dabble in, why did you pick coffee?
I think coffee is a way to bless someone's day. They're coming to us in need of caffeine. They're in need, and we can provide. And it's just a way of making their day. They come in and they need motivation and they need encouragement. Coffee does so many different things for so many people. It's cool to be able to provide that motivation for somebody … That's why I chose coffee.


Are there any current coffee trends going on lately?
So, Starbucks just released a flat white [coffee] a while ago, and people have been ordering that but not knowing what it is, so that's super funny. What people are trying to do now to try and get creative is, like, ordering like one-fourth of a pump of this, plus one-fourth of a pump of this and then they'll want, like, half soy, half coconut milk, and a split shot, but only three-fourths decaf — so it's a lot of fractions. I think that's the newest thing. People want to fractionalize their coffee. That's what I've been noticing at least, with all the new hipsters coming in.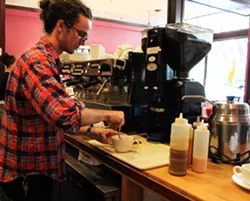 What's the most rewarding thing about working at Rockwood?
I think building relationships with customers is easier here than it has been at any other job, because at some point, they've been waiting in line for a bit and they're really anxious and to be able to just calm them down, talk to them like a person, ask them how their day is going, learn their name, and thank them for coming in. I love the opportunity to build relationships. We've had a lot of people come in and be like 'You guys should teach a class on customer service,' because all of the people here are able to converse in a way that's respectful and fun and easy.

Could you share a favorite memory of working here so far?
One of our regular customers — she comes in every day, she owns the salon next door — her name is Sandy. She's great. She's a little older and she comes in and she knows exactly what she wants, and lately she's been greeting us by saying "yo," and she's a grandma, so I love hearing her say it, it's one of the funniest things. I think that's one of my favorite things. Hearing Sandy get current with the times and just throw down a "yo."

What is your favorite drink to get here? Favorite food item?
A honey latte. Okay, let me tell ya. All of our pastries are delicious. Literally every single one I've had here has been a better version of anything I've had at any other bakery my whole entire life, but my favorite pastry is our cherry turnover. I don't know why, but I somehow manage to always get the fresh ones. I love combining the honey latte with the cherry turnover. It'll make you smile immediately.

If you could describe Rockwood in one word, what word would you use?
Community.