We're barreling toward Thanksgiving, so you might want to take the week ahead to go out and have some fun before the family festivities take over. Cruise through out event listings and Staff Picks for great options every day.
Here are some highlights of the week ahead:
Monday, Nov. 16
WORDS | It's time once again for the
Spokane Poetry Slam
at The Bartlett, where you can hear some extremely talented folks do their spoken-word thing, or get on stage yourself and potentially win some cash money.
Tuesday, Nov. 17
LIVE MUSIC |
Moon Taxi heads to Sandpoint
for a show at The Hive, where the Nashville crew will bring their energetic acoustic guitar riffs to Idaho for a night. Moon Taxi is currently touring in support of their Oct. 2 release
Daybreaker
, the band's fourth studio album. Here's a taste of their sound:
THEATER | Spokane only gets one shot to catch
Rudolph The Red-Nosed Reindeer: The Musical
when it stops by the INB Performing Arts Center. It's the family story from the animated classic, plus some extra tunes. A mighty fine way to get into the spirit of the season, if you're not ready yet. Resistance, after all, is futile.
Wednesday, Nov. 18
FOOD & DRINK | The only problem (and it's not really a problem) with the Northwest Ale Trail is that you have to travel to partake in all the delicious goodness of the breweries involved. For one night, though, Yelp is making it easier on all Inland Northwest beer lovers by hosting the
Beertopia With the Northwest Ale Trail
event at The Black Diamond, where you can sample yummy brews from near and far.
Thursday, Nov. 19
LIVE BANDS | The
Smokes are hosting a CD release show
at The Big Dipper, where they'll be joined by Phlegm Fatale, Gorilla Chicken & Rabbit and comedian Matt Dargen for a night that's sure to be memorable. Here's a
story we did on The Smokes
over the summer.
Friday, Nov. 20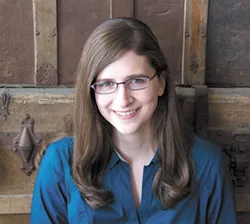 WORDS | EWU's mighty fine visiting writers series welcomes
S.M. Hulse
to Auntie's on Friday at 7 pm for a free reading and discussion. Here's a
profile we did of Hulse
when her debut novel
Black River
arrived earlier this year.
SPORTS & OUTDOORS | You don't want to miss the Inlander's
PowderKeg
brew festival or the
Snowlander Expo
happening Friday and Saturday. Get some screaming deals on winter gear, drink some tasty beverages, and join a prayer circle for some snow!
FILM | Every year, the
Banff Mountain Film Festival
comes through to show us some insanely beautiful parts of the world, and make us crazy that there's not enough snow to go skiing yet. A perfect pairing for Snowlander, the film fest runs at The Bing all weekend, starting Friday.
Saturday, Nov. 21
VISUAL ARTS | If you love seeing the creativity and diversity within America's Native American art, catch the
"We Are Still Here" Native American Art Show
at Hatch: Creative Business Incubator all weekend.