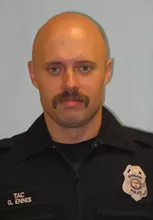 A Spokane police sergeant was arrested and booked into jail on second-degree rape charges earlier this afternoon. Another SPD sergeant faces charges of rendering criminal assistance and obstructing a law enforcement officer.
Sgt. Gordon Ennis
was booked into the Spokane County Jail at 4:23 pm Wednesday on rape charges in connection with a drunken party hosted by Officer Doug Strosahl, according to Sheriff Ozzie Knezovich. Investigators found the DNA of the female officer he's accused of assaulting in his vehicle.
Ennis was at a party with other members of the police department Oct. 24. According to court documents, a fellow female officer passed out drunk in a guest bedroom. When she awoke, Ennis' hand was down her pants, she told investigators.
Ennis was released from jail shortly after turning himself in.
Detectives with the Sheriff's Office also suspect SPD
Sgt. John Gately
, the union president, tipped off Ennis to a search warrant for his DNA. The Spokane County Prosecutor's Office is still reviewing documents for rendering criminal assistance and obstruction of a law enforcement officer against Gately.
Although Strosahl was also a subject of the Sheriff's Office investigation, he has not been charged.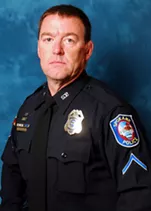 Mayor David Condon released the following statement regarding the charges:
"This is a disappointing day for Spokane. We hold our police officers to the highest standards of conduct, and the allegations contained in these charges fall far short of those expectations. The community expects and deserves better, and most of our officers carry out their duties with the utmost professionalism. Unfortunately, these officers have not lived up to that commitment.
"As required by the Civil Service discipline process, an internal review panel will be activated to review the felony charge. We have zero tolerance for this kind of behavior and will take immediate action once the panel has made its recommendation."