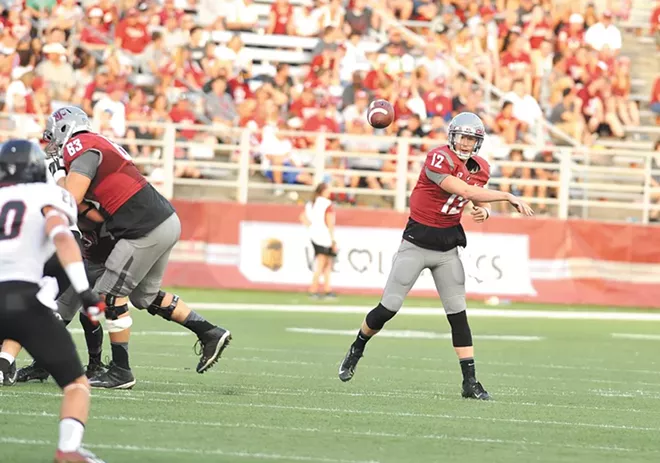 Ever since former Washington State quarterback and Spokane native Connor Halliday bailed out of Washington, D.C., the night before the start of his rookie training camp — a camp that could have potentially landed the undrafted free agent in the NFL, a lifelong goal of his — there have been questions about just what happened to the tall, cool QB
The Inlander
and others considered a
real gunslinger
and near-lock for a pro career.
The questions actually go back further for those of us surprised the kid didn't get drafted after having one of the most prolific passing careers in college football, but
the injury
that cut short his senior season seemed to be ample reason for NFL teams to wait before taking a chance on Halliday, rather than using a valuable draft pick. HIs
mom even wrote a powerful essay
about watching her boy's injury, and how the NFL was still his goal, just before Draft Day last year.
Now comes a
new piece via Newsweek
, in which reporter John Walters tries to find out what happened in D.C., and what's next for Halliday on his rocky road to the pros. Ultimately, the reader is left still wondering what went wrong, and whether Halliday has what it takes to still make a go of it in pro football.
This is all the explanation we get of why he bailed out of his rookie training camp:
He spent nearly two weeks at the Redskins' facility in Ashburn, Virginia, ingesting coach Jay Gruden's playbook. Like a law school grad cramming for the bar exam while his mind is plagued with self-doubts about practicing law, Halliday was easily distracted. Mentally and emotionally, he had tapped out. On the eve of the three-day rookie training camp, he bought a one-way ticket home.

"I felt bad about not telling coach Gruden face-to-face," says Halliday. "But I also felt like they told me that they were going to draft me, and then they didn't."

Halliday's flight out of Dulles International Airport departed before dawn. His cab arrived at 3:45 a.m. As the taxi approached the on-ramp of the highway, a lone vehicle pulled directly in front of it: a BMW 760, just like the one he had dreamt of owning. "It was right in front of us," says Halliday. "Then the driver floored it. He must have been going 100 to 120 miles per hour. And that was my dream disappearing in front of me."
There's new info about his brief — as in, one day — career in the Canadian Football League, a brief — as in, two months — marriage to his childhood sweetheart, and Halliday's struggles to get a "regular job" in Spokane while he mulls what might have been.
"I am disappointed that I'm one of those stories," says Halliday in the article. "'Do you know Connor Halliday? He had all the talent in the world, but it just didn't work out for him.'"
Hopefully there's still a chance for Halliday to inspire a better story, or at least a better ending to his own.
Read the
full Newsweek article here
.