The Spokane International Film Festival is off and running on Friday night after the
opening night screening of Vision Quest
at the Fox Theater; you can read a bunch of
our preview coverage right here
.
As part of our online coverage of the festival, some of our writers are going to offer up reviews of films, along with suggestions of a place to get a bite before the show, and grab a drink after to talk it over. First up is the People Are Strange Showcase.
PEOPLE ARE STRANGE SHOWCASE
This special showcase pulls together three long-ish short films (between 20 and 30 minutes) that each feature "strange" or eccentric characters in unusual situations, including the new film from
Spokane's own Jason McKee
, a two-time SpIFFy award winner.
Here's the breakdown on what you'll see:
RESPITE


Respite
is a quiet 20-minute film directed by Adriano Cirulli, following one man's seemingly mundane day-to-day existence as he goes jogging or goes to work. The twist? This everyman is living in his car. Occasionally he drives his home to do a little photography somewhere beautiful, and we see him watching movies and having a beer in his car, as well as writing a letter to his wife to let her know he's sent a gift to his unseen child. That letter also gives us the most intriguing bit of information about our man in one line he writes: "I am well, although I still have relapses from time to time." It's left to the viewer to decide what that means.
INBETWEEN

Director Jannis Lenz packs a lot into one night in Max's life, as captured in this 24-minute German film. It starts with Max returning to his parents home to crash after a breakup with his girlfriend. Going out to meet up some old buddies to drown his sorrows, Max and his crew meet some new friends at the pub and proceed to go on an all-night bender that inspires Max to reflect on what comes next.
MARTY (OR YOU CAN CALL IT STRATIVARIUM IF YOU WANT TO)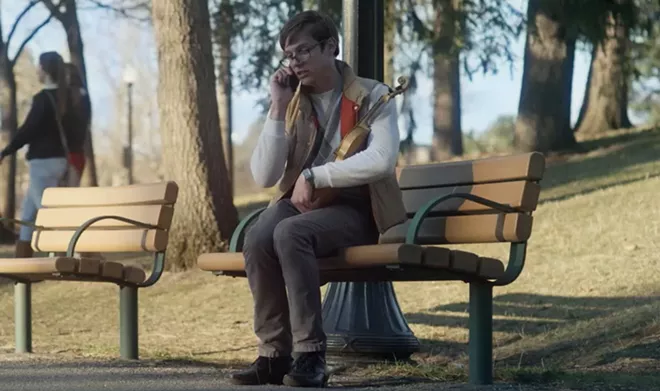 Jason McKee's latest Spokane-set film features Marty, a former veteran who's won a settlement from the government that allows him to live somewhat comfortably even as he struggles to find love, to make art and to deal with the cruel friends of his brother who constantly take advantage of his good nature and naivety. Ultimately,
Marty (or you can call it Strativarium if you want to)
ends on a joyful note for both its title character and the viewing audience.
People Are Strange showcase • Sat, Jan. 30 at 2:30 pm • Magic Lantern Theater • 25 W. Main
Bite before the show:
The
Blackbird Tavern & Kitchen
is a spacious spot where you can settle in for just a cup of joe and a massive cinnamon roll, or go whole-hog with a couple of my meaty favorites: Burnt Ends Hash or the Smoked Brisket with grits.
905 N. Washington, theblackbirdspokane.com
Discuss over a post-show drink:
Given the mid-afternoon start time, a little bite with your cocktail seems an ideal way to discuss the People Are Strange showcase. Consider dropping by the
Gilded Unicorn
, where the comfort food from owner/chef Adam Hegsted is pleasing and filling (try the Pigs in a Blanket), and the décor features some strange artwork.
110 S. Monroe, gildedunicorn.com