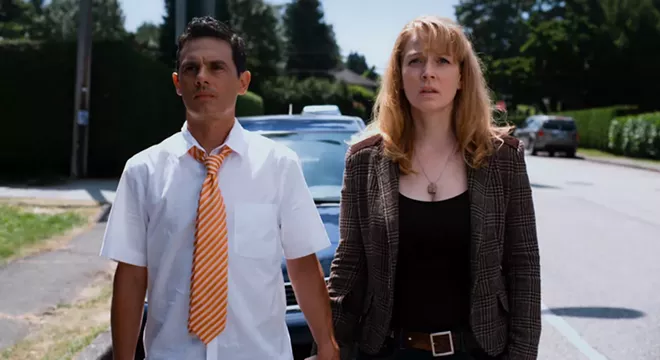 Three years ago, Canadian filmmaker O. Corbin Saleken was named the Spokane International Film Festival's "Most Promising Filmmaker" based on one of his shorts. Now he's back in town with his feature debut,
Patterson's Wager
, which is screening Friday at The Bing Crosby Theater.
The film starts with a bang, quite literally, as a thunder crack and lightning flash make a man named Charles nearly jump out of his skin as he relaxes in his apartment, suddenly engulfed in a storm — inside his house. Just as quick as it came, the storm disappears, only to reappear outside Charles' window a couple minutes later.
With that jolting start, the film is off and running as Charles slowly comes to realize that he's somehow attained the unusual and questionably useful talent of seeing the future — but only two minutes in the future. Think about how frustrating that must be? It's pretty hard to take advantage of this sorta-super-power, but
Patterson's Wager
takes us on a journey with Charles as he tries to do just that. Naturally, there are complications. Charles has moments when he thinks he's going mad, as does his girlfriend Audrey. But for any moment of stress, there's another of levity as Charles comes to grips with what he calls "the most useless superpower" since he can't control it, and he doesn't know when it's going to happen.
Patterson's Wager
is subtle, maybe even too much so, as not a lot happens over the course of its running time. But the performances by stars Fred Ewanuick and Chelah Horsdal are both solid, and watching their relationship evolve through Charles' affliction is key to the film. Saleken's talent as a filmmaker is obvious, and the indie-rock soundtrack is excellent — more than once did I find myself searching for songs that pop up along the way.
Patterson's Wager
plays Friday at 7:30 pm at The Bing Crosby Theater, 901 W. Sprague. Tickets are $10 (plus $2 for the Bing's facility fee) and
available through the SpIFF website
. After the film, you can hit the SpIFF Closing Party at the Washington Cracker Co. building at 304 W. Pacific.
Here's a
link to all of the Inlander's SpIFF coverage
, and here's a look at the trailer:
Patterson's Wager trailer (Canadian version) from Corbin Saleken on Vimeo.