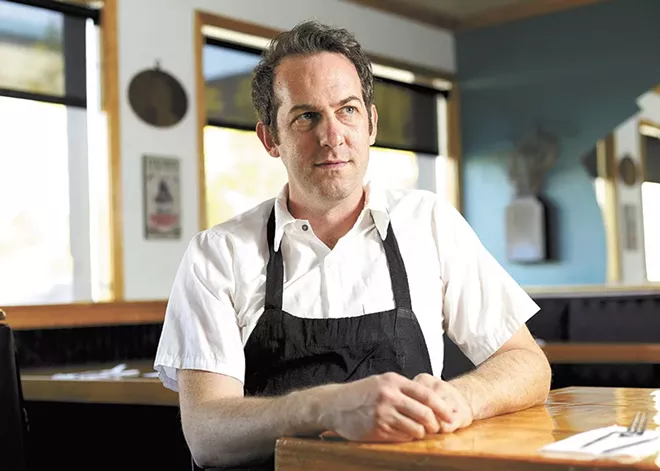 On an average night, Ruins is one of Spokane's most interesting and innovative restaurants in the region, led by chef and owner Tony Brown's ever-changing small-plates menu. In a relatively unremarkable building on North Monroe Street, just around the corner from the county jail, Brown has created a restaurant where other chefs come to while away an hour after their shifts and delight in well-prepared food. And that's just on an average night.
Last night at Ruins wasn't average.
Brown had help in his tiny kitchen.
For one, there was Chad White, Spokane-born owner of restaurants in San Diego and Tijuana, who was just recently eliminated from the current season of Bravo TV's
Top Chef
and is in the process of
opening a place
here. And there were two of White's friends, also competing on
Top Chef
: Phillip Frankland Lee and Kwame Onwuachi, who flew into Spokane hours before dinner service to help in the special, multi-course meal inspired by Mexican street food.
The dishes were playful and tasty, beginning with Chef Phillip's mussel and tequila shot seen below. (He brought ingredients with him, but TSA security got to them first.)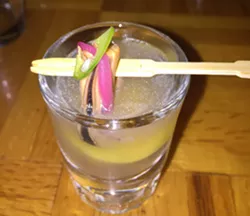 Not working but eating last night were two of the Inland Northwest's best-known chefs: Jeremy Hansen of
Sante
, who previously collaborated with White; and David Blaine of
Central Food
. (Random recommendations: Try Sante's wine-paired tasting menu and Central Food's bibimbap.)
Besides the tasty food and expertly crafted cocktails, something else became very clear last night: Spokane's chef culture is growing, and rather than see each other as competitors, local chefs are working together, supportively, to create new and interesting things. In March, for example, Hansen is organizing
Chef's Week
. And later this month, there's
Inlander Restaurant Week,
featuring 100 restaurants all doing special three-course meals.
On average, it's a very good time to eat!