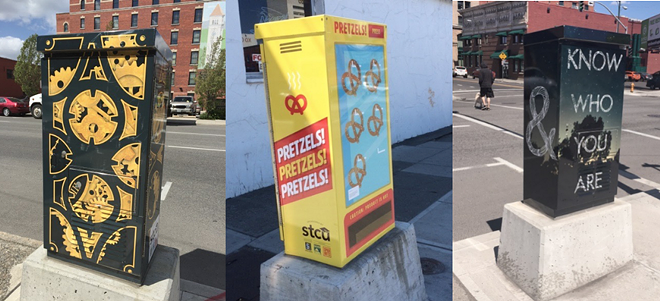 Local artists and designers, you've got less than a week to submit your work. But from what we know about most creative types, working under the pressure of a deadline isn't the worst option.
After debuting a series of local artists' designs on downtown traffic signal control boxes last year, Spokane Arts is seeking submissions for round two of the project, with a deadline of 5 pm next Monday, Feb. 29.
Currently, 13 of the plain, gray metal boxes along Second Avenue are brightened by the presence of local artists' expressions. Installed last spring, the varying designs were printed on vinyl that wraps around the boxes housing the controls for intersection traffic signals.
For the second phase of the urban beautification project, 20 designs are to be chosen, and artists will get $100 per box for their efforts. Signal box art is set to brighten up the East Sprague Business District, the Garland Avenue Business District and a section of Third Avenue downtown.
A call for submissions specifies that qualifying artists must be from the Inland Northwest, and their work should follow the loose theme "Flash-back / Fast-forward: The chronicle of Spokane's history and industry."
Artwork chosen for display on the boxes will be selected by March 8 by a five-person voting committee. Then, art is scheduled for install between April and June of this year. Complete details about design and submission specifications are listed in Spokane Arts' call for submissions.
Again, the project is being sponsored by STCU and is organized in partnership by Spokane Arts and the City of Spokane. The Spokane Parking Advisory Committee, overseen by the Downtown Spokane Partnership, is also sponsoring the project's next phase.