No man, woman or child can escape the terrible gaze of the City Hall Eyeball. Again the City Hall Eyeball turns to behold the gnarled hand of fortune that holds the destiny of Spokane in its withered clutches. What tales of terror has the eyeball beheld this week? These stories three:


Michael Baumgartner sent the Spokane City Council a Valentine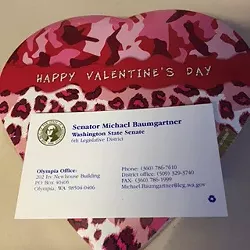 The relationship between Sen. Michael Baumgartner and the Spokane City Council has been a bit
rocky lately
, what with Baumgartner introducing legislation to strip cities of powers to define wage and sick leave policies, with him not calling on City Councilmember Candace Mumm to testify, and him comparing them to Dr. Evil's smaller,
bitey
clone.
But it wasn't always this way. Ah, for those halcyon days of yesteryear! Remember, the medical school, Michael? Remember how you broke with your Spokane conservatives to support a transportation bill that would pay for the North-South Freeway? Oh, how young we were back then! How gaily we laughed!
But what better way to rekindle the fire than a romantic gesture?
"I'm hoping Sen. Baumgartner will send me flowers and we can start over again," Mumm told the
Inlander
a few weeks ago.
A few days later, Baumgartner came pretty close. He sent over eight Valentine's boxes, complete with chocolate.
"I will send Sen. Baumgartner a thank-you note," Mumm says. Why eight boxes for seven council members? Maybe he sent one to spare, Mumm guesses, or maybe he just forgot how many council members there were.
City Council Resolutions on National Issues are Back, Baby
The Trans-Pacific Partnership (TPP, as they say on the street) trade deal is a really complicated issue. Like, anytime anyone mentions anything about it, someone smarter can pop up and say "
aaacctuaaally
"
or "The situation's a lot more nuanced than that."
For a good primer, check out this
Planet Money
episode
or this
recent episode
of Vox's
The Weeds
podcast. (Though
actually,
the situation's a lot more nuanced than that.)
But because of the range of issues that TPP impacts, the deal has created a coalition, of sorts, between the free-trade-skeptical left (Bernie Sanders) and the protectionist right (Donald Trump).
And to get a sense of how opinion has shifted on the issue, look no further than center-left
barometer
Hillary Clinton, who went from calling the TTP the "gold standard in trade agreements" to opposing it. This alliance also gave the council the rare opportunity for agreement: Right-wing gadfly George McGrath stood up to
sling
fiery invective against
TPP,
while left-wing gadfly David Brookbank
also
slung fiery invective against TPP. (Also, one speaker sang an a cappella hymn about corporations, entities, and trade deals.)
Without center-right councilmembers like Steve Salvatori or Mike Allen, the council was also united in its opposition to TPP, unanimously voting to oppose it. Mike Fagan and Ben Stuckart, together at last.
But the loss of Salvatori and Allen has shifted the council in another way, too. Stuckart says that both Allen and Salvatori generally hated it when the council took stands on national issues.
"Steven [Salvatori] and Mike [Allen] didn't want to take on issues. [They would] say it wasn't any of their
business,
if it was something they didn't want to be on the record on," Stuckart says. "That was totally their right. But they're gone."
That's not to say that Stuckart wants to take on
any
national issue.
"I think there's got to be a nexus to city policy. I think this one has a clear nexus," Stuckart says. "There's certain things we've done that I think would be challengeable under the TPP."
Stratton out, Beggs In


City Councilwoman Karen Stratton is stepping down from the committee guiding the investigation into the
Straub-Condon controversy.
The reason? So she can feel free to talk to the investigator about the investigation.
"It's simple. I got a notice from the investigator that I was on the list. The witness list," Stratton says. "I didn't realize I was. And so I thought about it and thought, I would like to participate as a witness."
Stratton was one of two councilmembers who had voted against waiving privilege in order revealing
what was said in executive session
.
But she says she'll answer every question if asked.
"I've given this a lot of thought," Stratton says. "I'm going to answer the questions. If by answering the questions, if that means I have to divulge that, I will."
She'll be replaced by newly minted City Councilman Breann Beggs, a former attorney who knows a thing or two about city liability.