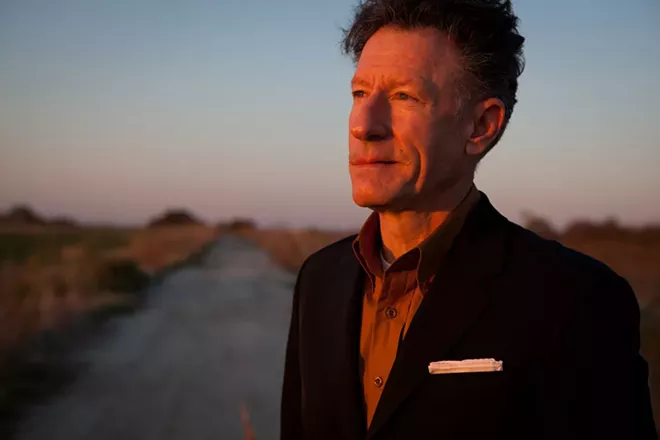 Nearly halfway through their excellent sold-out show,
Lyle Lovett
told the audience that the acoustic shows he and fellow Texan
Robert Earl Keen
do on occasion are more than just concerts for them, but rather a handy excuse for a couple of buddies to "hang out."
Their respective careers playing heartfelt and often hilarious country and folk tunes have taken each of them far from home regularly for decades now, but the friendship that started when they were both college students in 1976 at Texas A&M remains, and is palpable as they sit next to each other on stage, cracking jokes, swapping stories and delivering songs of Cadillac cowboys, family spats and love gone awry.
"We were real friends," Lovett said of the bond the two forged when they were aspiring songwriters sitting on a College Station, Texas, front porch. "Not fake show-business friends."
There is very little "show-biz" about Lovett or Keen, no matter how many movies Lovett appears in or how dramatic Keen's combo of suit and hat look on stage. And their show at Northern Quest Resort & Casino Sunday night was proof positive that a stripped-down all-acoustic show can be just as engaging and emotionally satisfying as any amplified blowout full of stage bells and whistles.
The two entered and left the stage together, and in between they sat closely side by side, each with a guitar, to deliver more than 20 songs spanning each man's respective catalog. For the most part, they simply took turns playing solo, the exceptions being the occasional guitar flourish Keen would add to a Lovett songs like "What Do You Do/The Glory of Love," or harmony vocals Lovett added to Keen's "I"m Comin' Home." And naturally, they shared lead vocals on "Front Porch Song," a tune they co-wrote years ago in Texas that both included in their '80s-era debuts.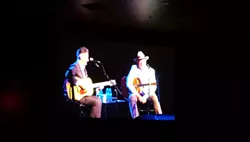 They alternated songs back and forth, Lovett starting the show with his "Cowboy Man," and Keen following with his "Goin' Down South." They seemed to play with common themes here and there as a way of organizing the show, so that when Keen played his hilarious tale of a public mental breakdown in a Chinese restaurant, "Then Came Lo Mein," Lovett followed up with a funny, sort-of-food-related tune of his own, "Keep It In Your Pantry."
Lovett was the more loquacious of the two at first, but that might have been just because he had the first song, Keen was chatting up a storm soon enough, like when he introduced "For Love" by talking about a fan who had the song title tattooed on his chest, then asked Lovett if any of his fans had done such a permanent tribute.
No, Lovett deadpanned, but that always reminds him that it's "a short line between a compliment and just weird."
Both men praised the other after nearly every song, the performances punctuated by stories about old friends, loony landlords and good times long ago. Lovett's wry humor, evident in his songs, was even more pronounced in his between-song banter, while Keen's more boisterous nature made for a nice contrast.
Both men had several high points along the way. For Lovett — whose songs defy easy genre labels as they touch on country, folk, blues, jazz, pop and more — "North Dakota," "Lights of L.A. County," "Whooping Crane" and "No Big Deal" were all excellent, and the crowd loudly responded to several of his better known songs like "If I Had a Boat" and "She's No Lady." Keen's tunes, touching on rock and blues as well as bluegrass, are more rambunctious than Lovett's, and "Shades of Gray," "The Rose Hotel," "Feelin' Good Again" and "Gringo Honeymoon" were all on point.
All told, an utterly enchanting evening by two old pros. Both men are worthy headliners, but the easy vibe of two friends sharing a stage made for something altogether different than when Lovett rolls through with his Large Band or Keen goes electric with his band. And in this case, "different" worked perfectly.