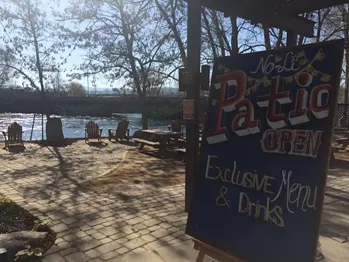 It's T-shirt season again, which means you can actually enjoy a beer and dinner in the outdoor fresh air without you — or your beer — freezing. Here are several local spots that have opened their patios for spring and are ready to serve their libations and edible creations to you outside.
No-Li Brewhouse
Located on the Spokane River,
No-Li's
patio offers a cool and scenic spot to enjoy a beverage, appetizer or even just sit in the shade at a comfortable spring temperature. With new upgrades such as a water feature and lawn additions, the No-Li patio is now officially open for the season.

Veraci Pizza
Like No-Li,
Veraci Pizza
gives its visitors a front-row view of the Spokane River
and
city skyline from the comfort of the Kendall Yards area. With a patio overlooking the city, what better place to enjoy a dinner and a glass of wine on a Friday night?
Perry Street Brewing

This brewhouse has had its patio open for about a week now, but it is dependent on how the weather changes. Regardless, join the
Perry Street
patio goers and have a couple beers in the sun.
Borracho Tacos & Tequileria

Another outdoor dining spot which has been bumpin' outside for about a week is
Borracho
. Complete with live music and trendy iron + wood furnishings, this patio is perfect for an afternoon of tequila and Mexican food.