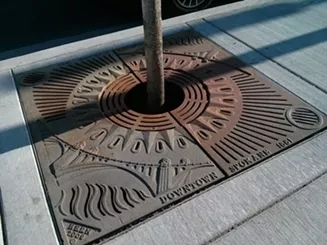 New public art projects continue to beautify the Lilac City in all forms.
Not too long after the city-supported arts nonprofit Spokane Arts put out the request for
the second series
of locally designed
traffic signal box wraps
to be placed throughout several neighborhoods, a call for submissions for the next big public art project went out.
The latest endeavor seeks to use local artist's work to bring interest to the
metal grates placed around trees
planted along city sidewalks. Five unique designs will be selected, each representing the following downtown Spokane areas and/or districts: arts and entertainment, business, south core, convention and university.
Artists can submit up to five designs, but only one design will be selected per artist. For their contributions, artists whose work is selected will receive a $1,000 design fee. Practicing/professional artists who submit their work must be a resident of Washington or North Idaho. The deadline to submit is Sunday, June 12.
Spokane Arts' call for submissions outlines the design criteria, noting that innovative designs which reflect the distinct atmosphere of each downtown district are highly sought. Text and logo usage is discouraged, and selected designs should show artistic excellence, craftsmanship, originality and attention to dimension requirements.
Those dimension specifics and other details about the submission process can be found on Spokane Arts' website. A
map of the downtown business districts
and
sample tree grates
are also linked on
the submission request
.
A major goal of the tree grate project is to help unify and designate these five areas of the downtown core as part of the City of Spokane's downtown redevelopment efforts.