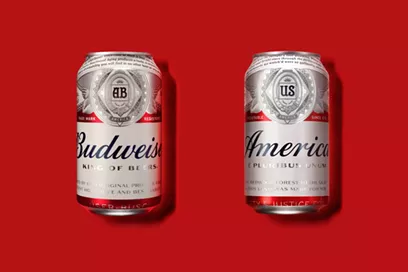 You've heard of "wrapping yourself in the flag," right? The idea that one is so patriotic, so full of love for country, that any suggestion that one's motivations are less than purely for the good of the nation is simply ridiculous?
Anheuser-Busch is reportedly taking the idea to ridiculous extremes this summer by temporarily
changing the name of its signature beer
from "Budweiser" to "America."
Seriously.
And the internet is, predictably, going a little apeshit over the idea. There's
Fox News
reporting it pretty straight,
Time magazine
comparing the idea to several other "laughably bad brand renames,"
Alternet
calling the move "truly ridiculous," and a whole lot of
other opinions on the matter
virally spiraling through your social media feed as we speak.
The move goes into effect on May 23 — just in time for Memorial Day because, you know, veterans — and runs into November, conveniently staying on shelves through Independence Day and Election Day.
Budweiser, you might recall, is a brand of Belgium's InBev, which bought up the St. Louis-founded brewery back in 2008 and became Anheuser-Busch InBev in the process.
In addition to the egregious name change, the label will also be covered in other phrases familiar to U.S. residents from all manner of patriotic songs and messaging on our money, including "land of the free," "home of the brave, " "e pluribus unum," "liberty and justice for all," and "from the redwood forest, to the gulf stream waters, this land was made for you and me."
I'm pretty sure they're probably also working on getting
Neil Diamond's "America"
to play every time you pop open another can.
As long as Budweiser is going ahead with this plan, there are a few other iconic "American" products, owned by foreign companies, that might want to consider name changes for some of their products to cash in on the hot summer patriotism buying binge:
• 7-Eleven (Japan)
• French's mustard (England)
• Nestle (Switzerland)
• Vaseline (England)
• Trader Joe's (Germany)
Of course, here in Spokane, there's no great reason to sip a Bud when we have an incredible array of
local breweries, distilleries and wineries
to support.