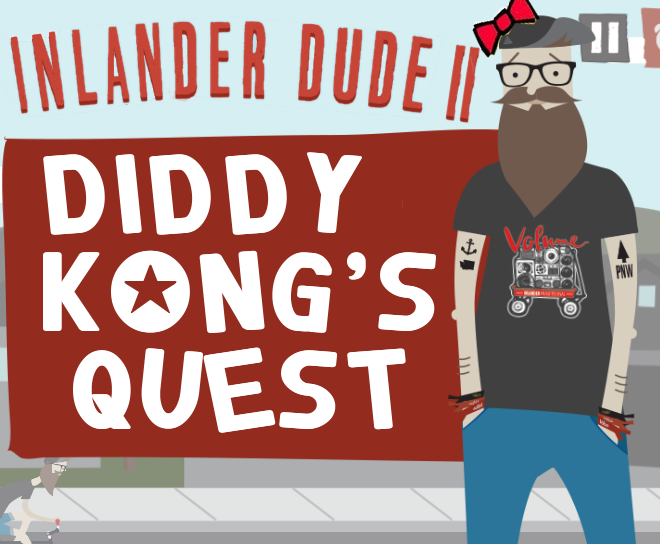 Last week, we launched
Inlander Dude
, the
Inlander
's first free
video game
, a simulator of what would happen if the
Inlander
was a daily paper delivered into newspaper mailboxes like the
Spokesman-Review
. We haven't checked yet, but we assume some 16-year-old kid is already getting paid a six-figure salary for live-streaming it on his Twitch account.
But we here at the
Inlander
are never satisfied. Understanding that video-game development is very much about finding a successful franchise and running into the ground, I'm unilaterally pitching the notion of an
Inlander Dude
sequel titled,
Inlander Dude II: Diddy Kong's Quest.

Here's what I've come up with so far:

PREMISE:

Ambitious Inlander delivery technician Sean "Diddy" Kong in his quest to deliver papers in order to raise enough money to buy a vintage copy of "Donkey Kong Country II: Diddy Kong's" from Trade-A-Game.

To do this, Kong must break the vow he made to his wife and children that he would put the Inlander Dude life behind him, and once more become... The Inlander Dude.

FEATURES:

1. The stakes are higher than ever. Every time Inlander Dude crashes — your computer crashes too.
2. Gender parity achieved by adding Ms. Inlander Dude, Inlander Dude with a pink bow, to the list of playable characters.
3. Public records request idle minigame! Plant your record request, then wait four months in real time until after the election for the city legal staff to release a censored version of the records you requested! Harvest and repeat!
4. New Red Pickup Truck character will scream profanity at Inlander Dude for riding his bicycle on the street and will try to run him off the road.
5. Oculus rift and always-online technology will allow players to read the Inlander... on the World Wide Web!
6. Inlander Dude must now jump over piles of unread copies of
The Pinch
.
7. Level up to upgrade Inlander Dude's various traits, including
Hipsterity
, Beardliness, Pretention, and Desire To Move To Portland.
8. Gold earned will allow Inlander Dude to purchase increasingly ironic T-Shirts, allowing Inlander Dude to raise his PBR rating to ridiculously powerful levels.
9. Rumble pack accessory will deliver searing pain to the player's shin whenever Inlander Dude hits an obstacle.
10. Inlander Dude must now dodge police vehicles speeding 70 miles an hour in a 35 zone without lights or siren.
11. Multiplayer mode will let Inlander Dude face off against his greatest enemies yet: Profane 13-year-olds shouting ethnic slurs into gaming headsets.
12. Two-hour long tutorial will explain in great detail how to shoot papers, dodge obstacles, change the sound settings, shut down your computer, reconfigure your boot settings in CMOS/BIOS, make $3,000 a month from home, please your man, find true happiness and purpose, sell your possessions, donate the proceeds to Inlander Dude, and live a communal life of peace and enlightenment with other
Dudelians
committed to Inlander Dude's precepts.
13. If the player beats Greenstone Homes President Joe Frank's high score in
Inlander Dude II,
they
become
Greenstone Homes President Joe Frank.
14. Micro-transactions will allow 6-year-olds to rack up incredible charges on their parent's credits cards!
15. Inlander Dude will get a new tattoo for every pedestrian he kills.
16. Will start with a 25-minute long unskippable cutscene detailing the history of the 1,000 years of Inlandia, explaining why Inlander Dude has been selected by the Council of Editors to defeat the Deadline Horde, unite the Seven Advertorial Stones, and release the Inkwells of Epiphany back into the
Clik'baat
Sea, restoring Prince Media to his rightful throne.
17. 90 percent of development budget spent to hire Liam Neeson to voice Inlander Dude's dying father.
18. Will include
Mario Party-
style joystick wiggling minigame sponsored by Providence Sacred Heart's Carpal Tunnel Syndrome Unit.
19. Epic sidequest will focus on Inlander Dude's efforts to vote in the Inlander's "Best Of" poll for Azteca for Best Mexican Food.
20. Each ride will come with 3 percent chance Inlander Dude's shoelaces will get caught in the gears, and he'll totally bite it.
21. Seattle neighborhood added, a brand-new high-paced adventure of Inlander Dude sitting stuck in traffic for three hours.
22. If Inlander Dude leaves his bike unattended, it will get stolen right outside the
Inlander
building, just like
that,
and he'll have to call his mom to come pick him up and give him a ride home.
23. In an attempt to tap into burgeoning markets in Asia,
Inlander Dude II
will feature Spokane's "
Pandayard
" neighborhood, named after railroad tycoon James A. Panda, and populated entirely by pandas.
24. Death is permanent. Not in the game, to be clear. In this crazy, messed-up world of suffering and
grief
we live in. Pretty heavy when you start to really think about it.
25. Animation through
Inlander
window will show editor yelling at news writer for wasting time writing silly lists while he should be working on his news story this week.