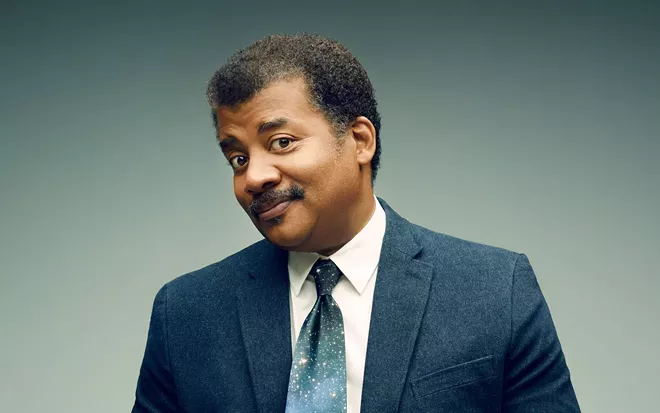 We're just a week away from the official start of summer, and Spokane's kids are about to be unleashed upon the city as the school year ends. Better start making plans using our
event listings
and
Staff Picks
.
Here are some highlights of the week ahead:
Monday, June 13
COMEDY | A series of "
Lush in Space
" events kicks off with some serious laughs at The Observatory, courtesy of Hail Sagan! trivia, followed by local comedy troupe The Ditch Kids.
Tuesday, June 14
WORDS | He's smart, he's hip, he's famous and he's here to drop some knowledge on your ass.
Neil deGrasse Tyson
drops by the INB for a show dubbed "An Astrophysicist Goes to the Movies." If you take the science in your favorite flicks seriously, you probably want to skip this. If you want to be entertained and enlightened at the same time,
read our story
and check out the show.
LIVE BANDS | A mighty fine show goes down at The Observatory, featuring Seattle rockers
The Wild Lips
along with locals
The Smokes
and
Jan Francisco
(two of our 2016 Bands to Watch at one show!).
Here's a little sample of The Wild Lips:
Wednesday, June 15
FILM | It's opening night for
Outdoor Movies at Riverfront Park
, and the season opens with the most excellent
Guardians of the Galaxy
.
Thursday, June 16
COMMUNITY | Take a little roadie to Wallace, Idaho, for
Wallace Gyro Days and Lead Creek Derby
, kicking off today.
LIVE BANDS |
Helms Alee
brings the sludgy rock masterworks to The Observatory for a show with Dark White Light and Lucky Chase. Read our story about the band
here
.
FILM | The Magic Lantern hosts a one-night-only screening
Plant This Movie
, a doc about the urban-farming movement.
LIVE BANDS | A mighty good show hits The Bartlett, with headliner
Tristen
joined by locals Friends of Mine and The Dancing Plague of 1518. Here's a sample of Tristen:
Friday, June 17
THEATER | The Stage Left Theater hosts
The Laramie Project: 10 Years Later
, a sequel to the stirring original about Matthew Shepard's murder.
COMEDY | Funnyman
George Lopez
brings his standup act to Northern Quest Resort & Casino.
Saturday, June 18
BENEFIT | The
Parade of Paws Pledge Walk
raises money for the Spokane Humane Society, and you and your friends (both four-legged and bipeds) are invited to join the fun.
FESTIVAL/ARTS |
Bazaar
returns to downtown Spokane, offering a killer array of local artists' work, some live tunes, beer and all sorts of reasons to just spend the day.