Obviously, we're all watching
Game of Thrones
, and that won't change until this Sunday's epic season six finale, the longest episode ever in the show's history.
Newly released data from Comcast Xfinity OnDemand (so yeah, this doesn't cover all TV watchers, including the growing ranks of us who do all our traditional TV watching on the Internet these days) compares the Spokane metro area's viewing habits to the rest of the U.S., and the findings are actually pretty interesting. Here's the list of Spokane Comcast customers top 10 shows: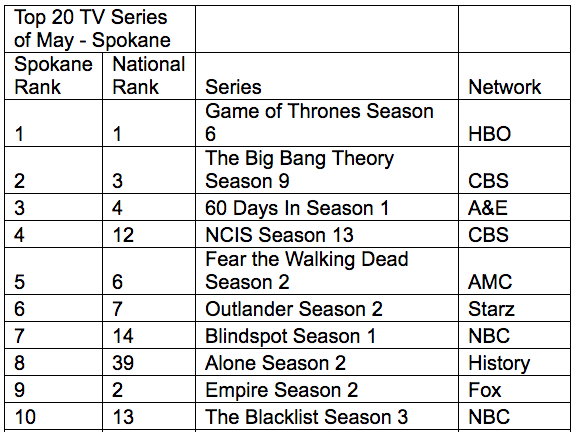 Apparently,
Big Bang Theory
is a thing still these days? Side note: I recently saw a
Big Bang Theory
LEGO set being advertised, which seems sort of odd, considering that most other LEGO sets on the market these days cater to both adult collectors and kids (like
Star Wars
,
Harry Potter
,
Ghostbusters
and Marvel).
Big Bang Theory
though? What kids who still play with LEGOS are watching that show?
Here in Spokane, we clearly love us some
NCIS
a lot more than the rest of the U.S.
Also ranking higher in Spokane is the newer NBC series
Blindspot
. The crime drama is centered around a mysteriously tattooed woman with no memory of her prior life, and whose tattoos turn out to be clues relating to a crime the FBI is trying to solve. (I admit, I've not seen it.)
Metacritic gives Blindspot a 65
, and user reviews show a generally favorable response.
Another disparity on the list is Spokane's love of the
History Channel show Alone
, a self-documented reality show with a premise of leaving 10 volunteers to fend for themselves on a remote part of Vancouver Island, BC. Trying to outlast each other and survive alone in the wilderness for as long as possible, the last man or woman standing lands a $500,000 grand prize. Season two of the series premiered on April 21. With a total of 13 one-hour episodes for the season, only three remain. What's most interesting about
Alone
, according to
Inlander
arts and culture editor Mike Bookey, is the fact that participants are self-documenting their entire stay on the island.
Again, we know this list is only indicative of Comcast's OnDemand viewers. What shows on the list are you most surprised to see? What shows are you watching and would recommend to your fellow Inland Northwest residents?