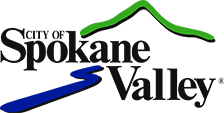 The Spokane Valley City Council has filled two of its three vacancies on City Council.
On Tuesday,
Caleb Collier
and
Pam Haley
were chosen for the council positions that were vacated by former councilmembers Dean Grafos and Chuck Hafner, both of whom
resigned earlier this year
amid frustrations with the four-person council majority.
Before Tuesday, the members of the four-person majority — Mayor Rod Higgins, Deputy Mayor Arne Woodard and councilmembers Ed Pace and Sam Wood — were all that was left after Bill Bates resigned due to health issues (Bill Gothmann had been filling in). The city narrowed down its list of applicants to six before choosing Collier and Haley.
Collier is a postman with the U.S. Postal Service and a precinct committee officer for the Spokane GOP.
"I just have a passion for effective government, and I really believe that the best way to get involved is locally. And that's what led me to apply," Collier tells the
Inlander.
Since the council majority controversially
fired city manager Mike Jackson
in February, many have
called for an investigation
into how that decision was made, accusing the council of violating open-meetings laws. Grafos and Hafner were among those calling for an investigation, and cited the council's unwillingness to investigate itself as a reason they resigned. Last month, the
Spokesman-Review
reported
that former Spokane County Undersheriff David Wiyrick sent an email to Mayor Higgins that urged them to put Jackson "under control." Higgins forwarded that email to other members of the council majority, which may constitute a violation of the state's open-meetings law. (Wiyrick
turned out to be a finalist
for the vacated council seats).
But Collier says he's not comfortable discussing the firing of Jackson yet, only two days into the job. He says he's still in the learning phase, and can't answer any questions about policy.
"I really like the direction that the council is taking, with a business-friendly model," he says. "I'm looking forward to getting my feet wet and to serving the public."
Haley, meanwhile, says the possible open-meetings violation is something she would "like to look into," but she doesn't have enough information yet to take a stance.
Haley, officially the newest member of the council and its only woman, says she's wanted to serve in public office for a long time, but she was too busy as an owner of two daycares.
"The opportunity came up at the right time for me," she says. "Everybody complains and whines and cries, but I wanted to step up."
She says one of her biggest concerns in the Valley is property crime. She would like to set money aside so that the Valley could add officers dedicated to reducing property crime. As for the city having its own public safety oversight committee, which is something that the council
has discussed
, she says she understands why that might be necessary.
Overall, she says she doesn't see herself being aligned with every view of the current council majority.
"We're probably going to agree and disagree," she says, "and it's OK to disagree."
Haley and Collier will serve as interim councilmembers until the November 2017 election, when the positions are selected by voters.
The city is still accepting applications until 4 pm today, July 1, to fill the last remaining council seat. You can find an application
here
.