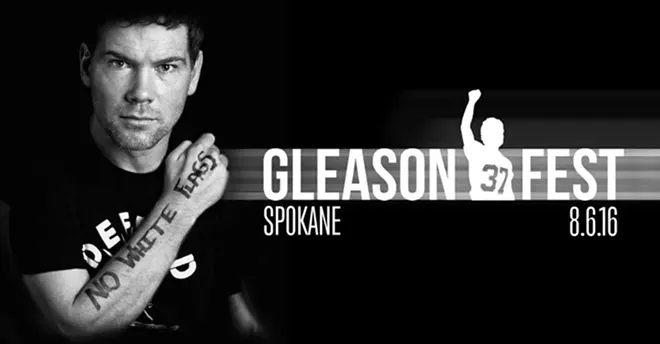 Lap up these final weekends of summer with some awesome tunes and beautiful sunshine.
FRIDAY
Last fall, when
Gregory Alan Isakov
was in town playing solo here for the first time, the show sold out. Now the South African singer/songwriter (by way of Colorado) is back with the Ghost Orchestra, but this time he's playing the Knitting Factory. Expect pure and utter beauty. The show begins at 8 pm and is $27.50 at the door.
The Hillyard Festival kicks off tonight. Check out all of the music and art and parade and fireworks information you ever wanted for this all-ages free three-day event
right here.
KYRS hosts
its final rooftop show of the summer with three extremely talented local bands taking the stage. There's
Inlander
Band to Watch
the Smokes
, brand new soul act
Nat Park & the Tunnels of Love
(this is the band's third show ever, which you can
read about
in this week's preview story) and finally Spokane's own hip-hop orchestra,
the Flying Spiders
. Cost is $1-$5 donation, and the festivities begin at 7 pm.
For those looking for a rooftop after-party, the Baby Bar offers up a free
show
starting at 9:30 pm. The lineup includes
Panther Car
(from Montana) and also local artists
the Dancing Plague of 1518 and Wild Pacific
.
SATURDAY
This year's
Festival at Sandpoint
kicked off Thursday with Bruce Hornsby & the Noisemakers, but the big excitement comes when
Emmylou Harris
takes the stage Saturday. The Country Music Hall of Fame singer-songwriter never ceases to impress with her wide catalogue of originals, covers and collaborations (with artists as diverse as Beck, Dolly Parton and Elvis Costello). Expect her set to end the first weekend of the Sandpoint festival on a high note. See the whole lineup right
here
. ALSO, don't forget about
Aftival
shows put on at the Hive right after the Festival at Sandpoint's events. Saturday's artist is
Karl Denson's Tiny Universe
.
What was once a block party is now moving to Riverfront Park. That's right, this year's
Gleason Fest
is bigger and better than ever. Artists include
Portugal. the Man, Pickwick, Delbert the Band, Duke Evers and Hey! is for Horses.
Check out our huge story about the
festival
and also Spokane's own Steve Gleason right
here.
Doors open at 2 pm and cost is $30 at the door.