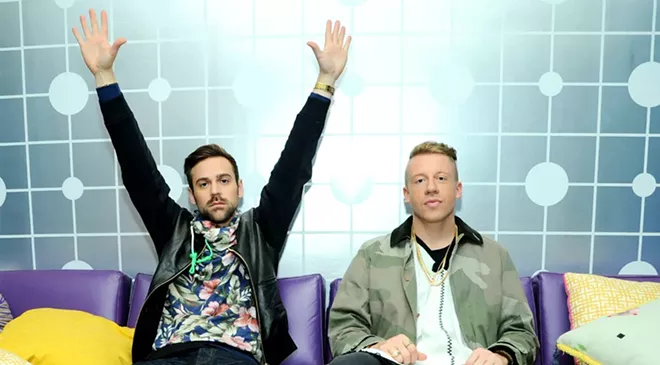 Barreling toward September we are, so you better take advantage of all that August has to offer while you still can. I'd recommend using our massive event listings and Staff Picks for guidance.
Here are some highlights of the week ahead:
Monday, Aug. 22
LIVE BANDS | The
Steve Miller Band
entered the Rock and Roll Hall of Fame this year with a splash, or maybe a volcano, courtesy of the classic-rock dude's rant that the Hall doesn't treat artists well. Who know the man behind smooth hits like "The Joker" had it in him? He'll headline a show at Northern Quest Resort & Casino that includes Foghat opening.
Tuesday, Aug. 23
COMMUNITY | It's
Community Shred Day
at the Spokane Arena, so bring in your personal papers and financial flotsam and get rid of it for a mere $5 donation to Project Hope.
LIVE BANDS | It's a huge night for live music in the ol' town on Tuesday. At the Bing,
Macklemore & Ryan Lewis
are headlining a show that sold out in mere minutes, so if you don't have a ticket, good luck with that.
At the Knitting Factory, you have the opportunity to dance up a storm with the mighty fine
Fitz and the Tantrums
, joined by Phases for a show full of soulful sounds and bombastic performers on stage. Here's a taste of the band's style:
And at Chateau Rive, it's an awesome lineup for the
Roots on the Rails
show, a tour traveling by train that includes roots-rock and folk legend Dave Alvin along with the incomparable Eliza Gilkyson, Cindy Cashdollar, Christy McWilson and more.
Wednesday, Aug. 24
FOOD & DRINK | The bounty of summer is soon to be a memory, so you might want to brush up on (or learn for the first time) your preserving skills. Head to the Medical Lake Library for a free session on
Preserving Food in Jars
.
LIVE BANDS | Headliners typically,
Steve Earle and Shawn Colvin
joined forces for a fine folk-rock album and tour that stops at The Bing tonight. Here's a little taste of their harmonious sound:
Thursday, Aug. 25
FILM | The Garland's Summer Camp movie series continues with the original
True Grit
, a Western classic.
SPORTS & OUTDOORS | It's another
Free State Parks Day
! Get outside while you can, people!
Friday, Aug. 26
COMMUNITY | It's opening day of the three-day
Gathering at the Falls PowWow
in Riverfront Park. Join the fun and celebrate the people and the river that provides for all of us. And chow some fry bread, of course!
Saturday, Aug. 27
FESTIVAL | The
North Idaho State Fair
is going on all weekend at the Kootenai County Fairgrounds. North Idaho might not be its own state, but it gets its own fair, and that's cool.
COMEDY |
Jim Jefferies
is a confrontational and hilarious Australian man, and his standup routines are both. See for yourself at the Fox Theater Saturday, and in this NSFW clip from his new Netflix special: