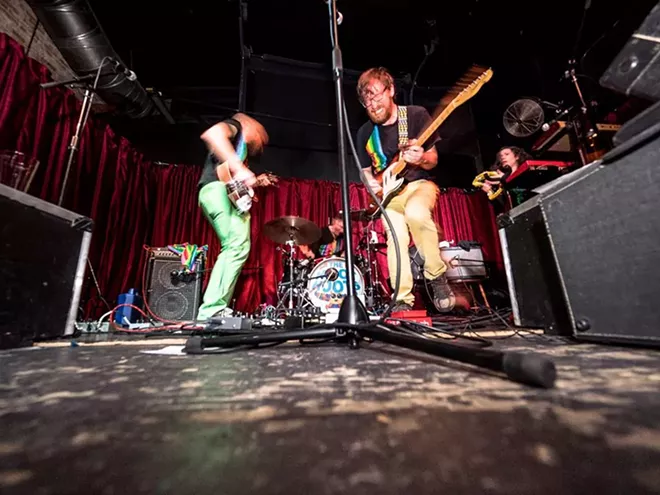 It's another weekend full of tough musical choices. Too bad it's impossible to be in multiple places at once.
FRIDAY
The thing about bands that say they are breaking up is that they normally are telling the truth, or at least the truth in that moment. Back in 2013, the
Fruit Bats
played their "final show" as a band in Portland. Yet last year, lead singer/songwriter
Eric D. Johnson
announced he was back at it.
Absolute Loser
is the act's first album in five years and you can hear much of those sweet, sorrowful tunes at tonight's Spokane show at the Bartlett. The show starts at 8 pm and is $17 at the door.
Tonight, the first-ever Rage-Apalooza (a combination of the All Age Rage and Octapalooza music festivals) continues at the Viking, and the lineup playing the two outdoor stages includes all local acts. Get a load of this list of bands:
Invasive, Soblivios, Seven Cycles, Concrete Grip, Cold Blooded, Hexxus, Children Of the Sun, Thunder Knife, Project-X and Catalyst.
The show is $15 at the door for a single-day ticket. Be sure to check out the
lineups
for Saturday and Sunday as well as read the
Inlander
's full event preview
right here
. We're most looking forward to Portland's own metal act
Red Fang
closing out the festival Sunday evening.
SATURDAY
Wimps
are back! While the Seattle trio did play Sasquatch! this year, they haven't been in Spokane since last August. This time, the punk rockers will take on the Observatory with the help of local artists
Peru Resh
and
S1ugs.
Cost is $7 at the door and you should probably arrive around 9 pm. Check out the band's new album below.
For those on the hunt for yet another cool festival/block party, look no further than the all-ages Steam Plant Block Party. Held in the parking lot between the Steam Plant and Baby Bar, the lineup kicks off with DJs Ca$e and Pauliday at 2 pm and ends with Seattle's own wild indie rockers
the Hoot Hoots
. In between? Local acts including
Flying Spiders, Von the Baptist, Summer in Siberia
and
Lavoy
. On top of the music expect a handful of vendors, food trucks, a T-shirt screen-print booth, even a dome to hang out in. The party doesn't end there, moving inside Baby Bar after 10 pm for even more sweet tunes. See the full lineup
right here.
Tickets are $10.