FROM INLANDER.COM

•
THIS WEEK:
Monty Python vets, genius poets, rhinos, Soul Pimps and more
• CONCERT REVIEW:
The 1975 sparks energetic frenzy at sold out Spokane stop
• NEWS:
More than a quarter of all Spokane County jobs fall below the Initiative 1433 minimum wage threshold
CHARGES POSSIBLE

During last week's Trump Wall rally at WSU, a protester knocked a phone out of the hand of a Trump supporter. The protester, an as-yet-unnamed student, could face
criminal charges
.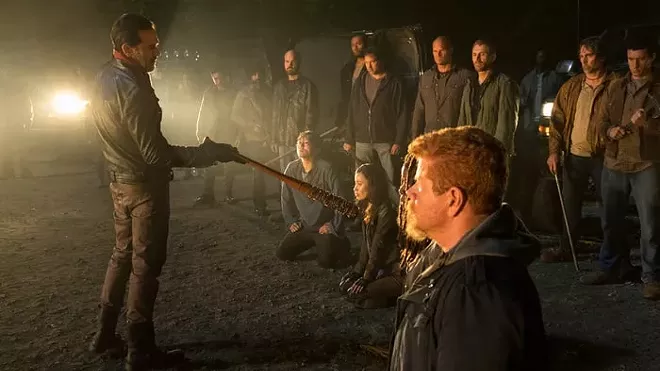 SEASON PREMIERE
The Walking Dead
premiered its seventh season last night with a gory, brutal episode, picking up at last season's cliffhanger, with the newest warlord, Negan, threatening to bash someone's head in with a barbed-wire-wrapped baseball bat. He kept his word, and we all got to see the hamburger-y result. More than one critic (and fan) likened it to "
torture porn
." Nevertheless, the show's cycle continues: After beginning to feel safe, our favorite characters have been reminded that there's always someone worse out there, someone who actually enjoys the new world.
NO ONE LOSES

The Seattle Seahawks and Arizona Cardinals battled it out Sunday night in the desert. It was about defense, pass rushers, punters and kickers. The game would go into overtime, where each team added a field goal, bringing the score to 6-6. That's where it'd end, in a tie. There were no touchdowns, but hey, no one lost.
LOCAL MAN IS MISSING
William "Bo" Kirk (seen at right), 41, was last seen Saturday night leav
ing work at Northwest Specialty Hospital in Post Falls. His truck was later found on fire. (KXLY)
SHOOTING IN SPOKANE VALLEY
A homeowner claiming a trespasser refused to leave his yard shot the man in the leg, and when the authorities arrived, the wounded man wouldn't cooperate with first responders, according to KXLY. The man died at the scene.


13 KILLED IN BUS ACCIDENT IN CALIFORNIA
A bus returning from a casino crashed into a tractor-trailer on Sunday near Palm Springs, killing 13 people and injuring 31, according to
CNN
DAKOTA PROTESTS HEAT UP
More than 100 activists were arrested over the weekend while protesting the construction of the Dakota Access Pipeline in North Dakota. Law enforcement also shot at a drone flying overhead after a helicopter pilot monitoring the protests
felt threatened
by it.