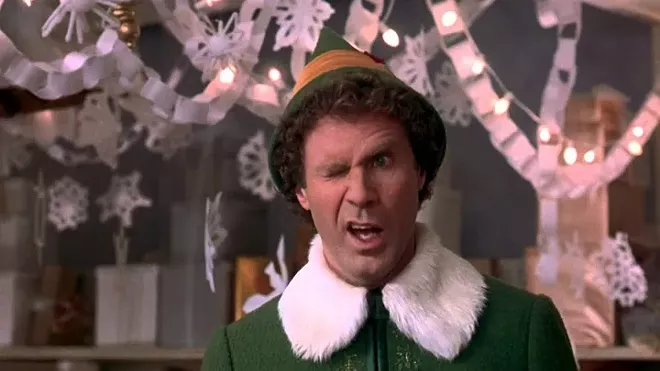 No doubt your world is a little different this week. Maybe you're done with finals. Maybe you have relatives coming to town. Maybe your kids are out of school and you find yourself needing to entertain them for the next few weeks. Whatever the case, check out our
Event Listings
and
Staff Picks
for some great options.
Here are some highlights of the week ahead:
Monday, Dec. 19
LIVE BANDS | What could be better than a little metal at the holidays? Not bloody much!
Void Omnia
headline a gig at The Observatory, and will be joined by Seven Chains and Askevault. Read our story about Void Omnia
here
, and be ready to work out some of your holiday aggression.
Tuesday, Dec. 20
FILM | It's the last week of the Garland's special holiday film series, this week screening the modern classic
Elf
. You know you love this flick:
LIVE BANDS | The Pin! hosts ye olde
Jingle Jam
, featuring Celly Cel, Young Gully and more hip-hop heroes of the season.
Wednesday, Dec. 21
ETC | How about something for the whole family, like a
St. John's Cathedral tour
? It's a majestic building, and all dressed up for Christmas.
Thursday, Dec. 22
FILM | Join the Inlander at the Garland Theater for the latest edition of Suds & Cinema, this time featuring Chevy Chase riding sleds, lighting Xmas lights and generally making an ass of himself like only he can in
Christmas Vacation
. There's tasty Rainier beverages and much mirth to be had. Here's a look:
Friday, Dec. 23
COMMUNITY | Two days before Christmas? Seems like a good time to check out the
Winter Glow Spectacular
out at the Spokane County Fair and Expo Center.
Saturday, Dec. 24
THEATER | If you're not avoiding the public and getting ready for the fat man to roll down your chimney, head to The Bing for
It's a Wonderful Life: A Radio Play
, for a cool new version of the Frank Capra film classic.