Northwest indie-rock favorites
Built to Spill
and
Chastity Belt
will play a new outdoor stage at the Steam Plant at
Volume 2017
this June 2-3, part of a sprawling lineup of nearly 100 artists ranging from hip-hop to punk, folk to synth-pop, metal to electro-rock.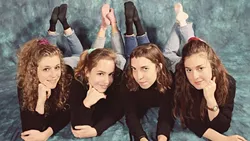 The Inland Northwest's best bands provide the backbone for Volume, as they have every year in its six-year history. Cathedral Pearls, The Dancing Plague of 1518, Itchy Kitty, Belt of Vapor, Empty Eyes, Summer in Siberia and Jan Francisco are among the locals who will play alongside visitors like rapper Nacho Picasso (Seattle), electro-pop crew J GRGRY (Seattle), grease-slathered Southern rockers Shawn James and the Shapeshifters (Fayetteville, Arkansas), art-rockers Lithics (Portland) and California-based Ras Kass, who Pitchfork once called "one of the best rappers of all time."
That's just the start of what is the best lineup yet for the largest, most diverse music festival in the Inland Northwest. You can
see the entire lineup here
, or scroll down for a complete list.
The venues for Volume 2017 include The Baby Bar (all-ages), The Bartlett (all-ages), The Big Dipper (all-ages), Boots Bakery, Mootsy's, The Observatory, The Pin! (all-ages), The Red Room Lounge, nYne Bar and the Washington Cracker Co. Building (Terrain stage; all-ages), plus the new Steam Plant Outdoor Stage on Saturday (all-ages).
Tickets are just $25 in advance for two days of amazing music ($35 if you wait until the festival), and you can
get those right here
.
Here's a sample of Boise-based Built to Spill:
Chastity Belt formed in Walla Walla:
Ras Kass gets topical on his latest:
Myke Bogan's "Take the Night Off" featuring Blossom:
Here's a complete list of the artists playing Volume 2017:
Built to Spill
Chastity Belt
Shawn James and the Shapeshifters
Blossom
Lithics
Motopony
Small Million
Nacho Picasso
Scarlet Parke
Myke Bogan
Lié
Cathedral Pearls
Ras Kass
J GRGRY
Folkinception
Weeknites
Versing
Dreamdecay
Goddamned Animals
Woolen Men
Windoe
Slug Christ
Mall Walk
Fat Lady
Choir Boy
Echolarks
Belt of Vapor
The Dapper Devils
Tech Tax
Sculpture Club
Trash Dogs
Summer in Siberia
Nobodies
Kalaj
Sir Coyler & His Asthmatic Band
Soul Ipsum
Rot Monger
The Dirty Moogs
Charlatan
Monuments
S1ugs
Miscomings
Tender Age
Unwed Sailor
Two Moons
Abraham & the Old Gods
Honey Bucket
Water Monster
Brotha Nature
Supervillain
Cattywomp
Peru Resh
Deer
The South Hill
Nat Park & The Tunnels of Love
Askevault
Lucky Chase
Crimewave
The Hallows
DJ Zozi
Runaway Octopus
Local Pavlov
Dark White Light
Super Sparkle
The Dancing Plague of 1518
Balonely
Forest Lines
Scatterbox
Narrow Minded
Kori Ailene
Dry and Dusty
Violet Catastrophe
Outercourse
Six State Bender
Lust for Glory
Infrablaster
Jan Francisco
Mini Murders
Empty Eyes
Buffalo Jones
Zan
Blacktracks
Bandit Train
Street Tang
Salve
The Colourflies
Little Wolf
Cold Blooded
Dario Ré
The Emilys
Itchy Kitty
Maidenhair
Pop Goddess Athena
Dylan Hathaway
DJ Case
DJ C-MAD
Breezy Brown
Benny Blanco