How do you come up with ideas like
setting up thousands of instruments in the desert so you can play them by speeding by with a car
, while singing and filming the whole thing?
Or how about
dancing in zero gravity
, or choreographing dancers to be
filmed by drone above a parking lot in Japan,
or setting up a
huge Rube Goldberg machine
?
"It doesn't really feel like we think of them at all, it feels like we find them," says OK Go lead singer Damian Kulash.
The band's incredibly complex and artistic music videos are as much an element of their fame as their music, and Kulash spoke about how the band goes about creating those videos in a
TED conference in Vancouver, B.C., last month
.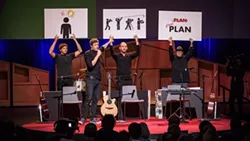 Their videos have come a long way from the viral video for
"Here It Goes Again"
that shows the four dancing on treadmills, and now has more than 36 million views on YouTube. Their Rube Goldberg machine video for "This Too Shall Pass" has more than 56 million views, and was actually the
second creative music video they made for that one song
.
In the talk, Kulash explains that writing music feels like looking for "that puzzle piece that clicks right in, and when it does click, it doesn't feel like you thought up that puzzle piece, it feels like you found it, like it was a set of relationships that you unlocked."
With videos, they're looking for the idea of wonder, and more than that, ideas that surprise people, he says.
And it takes math, and a lot of luck to get things to go right once they've got that idea.
The Rube Goldberg machine they set up? Kulash shows the audience that the math behind the 130 interactions that were set up really mattered. If the pieces were 90 percent reliable, there'd only be a 1-in-a-million chance that everything would go according to plan. If they were 99 percent reliable, the chances went up to 27 percent that it would all go right.
Find the
rest of the talk here
, and get ready for the band to come to Spokane; they're playing the inaugural
Tinnabulation Music Festival
on Sept. 10.