It's Volume weekend!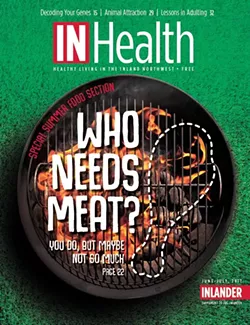 Need an evidence-based excuse to
invest in a wristband
and attend the
Inlander
's jam-packed
Volume Music Fest
this weekend? Try this one: Listening to music you like lights up areas of the brain involved in "internally focused thought, empathy and self-awareness." That's right: Music that you enjoy — whether rock or Bach —
may just make you a nicer person to be around
.
Meanwhile,
New York
magazine reports on research that shows sex, drugs and music all activate the same brain circuits, suggesting an
"evolutionary origin for music."
What more do you want?
Medication malfeasance?
"This pain population with no abuse history is literally at no risk for addiction," stated a letter from a respected Boston physician that was published in the
New England Journal of Medicine
almost 40 years ago. That reassurance, cited in more than 600 subsequent papers, gave skeptical doctors the confidence to begin prescribing opioids for all varieties of aches and pains. According to an NBC News story,
"It's difficult to overstate the role of this letter,"
said the University of Toronto's Dr. David Juurlink, who led the analysis. "It was the key bit of literature that helped the opiate manufacturers convince front-line doctors that addiction is not a concern."
On Wednesday, Ohio's attorney general announced that
the state is suing opiate manufacturers
because they "helped unleash a health care crisis that has had far-reaching financial, social, and deadly consequences in the State of Ohio."
Learning from history

As Congress grapples with repeal of the Affordable Care Act, the
Los Angeles Times
offers
a cautionary tale from our own state
. Washington was a pioneer in health care reform in the early 1990s; those efforts culminated in the Health Services Act, signed into law by Governor Mike Lowry in May 1993. It guaranteed coverage for everyone and required employers to offer health insurance. By 1995, problems enforcing the law's requirements led to a hasty GOP-led repeal, which sent the insurance market into a downward spiral that lasted five years. "Many state leaders, including former insurance executives, caution that congressional Republicans rushing to roll back Obamacare risk sowing the same kind of chaos that crippled Washington state's insurance market two decades ago."